Matt Bottrill and Julia Shaw win National 50-mile time trial titles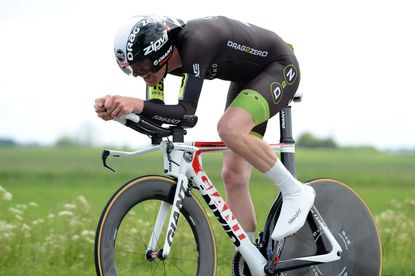 Matt Bottrill and Julia Shaw (both Drag2zero.com) were crowned National 50-mile champions after strong performances in their respective title races in Wales at the weekend.
Bottrill led Drag2zero.com to a clean sweep of the podium, his time of 1-41-10 being two and a half minutes faster than anyone else, and with Jeff Jones and Mark Holton second and third, Drag2zero.com broke the championship team record.
Both the reigning champions, Michael Hutchinson and Jenny Simmonds, were non-starters. Hutchinson cited a sinus infection for his absence, while Simmonds has been ill and been unable to train properly due to work commitments.
Shaw's winning margin was almost three minutes to runner-up Anna Turvey (Tyneside Vagabonds CC), while Rebecca Slack (Look Mum No Hands) was third, another 1-41 behind.
Elsewhere, former National hill-climb champion Matt Clinton (Mike Vaughan Cycles) won both the Hinckley CRC 25 and 10 events at Wolvey in Warwickshire last weekend.
He clocked 20-13 to win the 10-mile event on the Wolvey to Lutterworth course by 41 seconds, with Jon Simpkins (Drag2Zero.com) second and Scott Povey (Warwickshire RC) third.
Clinton then recorded 54-02 to take a comfortable win by more than two minutes over his nearest rival, runner-up Povey, while Stourbridge Velo's Karl Moseley took third spot.
The V236 in Yorkshire is a faster course, and so it proved in the Yorkshire Road Club 25 on Saturday.
The promoting club's own Carl Saint took the win, covering the Topcliffe to South Kilvington course in 53-36 to win by 45 seconds from GS Metro rival Andy Fuller, while Mike Marshall (Dirt Wheels Cycles) was another 33 seconds off the pace in third.
Over in Derbyshire, the A25/11 Etwall to Uttoxeter course provided some even faster times with Mark Thaxter (Huddersfield Star Wheelers) taking the win with 50-08, nine seconds quicker than runner-up Michael Ellerton (Team Swift). Just two seconds slower, Richard Bradley (Team Echelon-Rotor) was third.
The promoting club's own rider Ian Greenstreet proved victorious in the Newbury RC 10 on Saturday, defying strong winds to clock 20-15 which was 21 seconds quicker than his nearest rival, Richard Berriman (Leisure Lakes).
And in Devon, Cadence RT rider Robin Coomber won the 1st Chard Wheelers 10 on the S26r course at Feniton.
The 38-year-old clocked 21-11 to win by 1-36 from runner-up Steve Hockings-Thompson, the 47-year-old CS Dynamo rider who in turn was just three seconds quicker than teenager Harry Edney (North Devon Wheelers).
Thank you for reading 20 articles this month* Join now for unlimited access
Enjoy your first month for just £1 / $1 / €1
*Read 5 free articles per month without a subscription
Join now for unlimited access
Try first month for just £1 / $1 / €1