NFTO ends sponsorship of UCI Continental team but new outfit set to replace it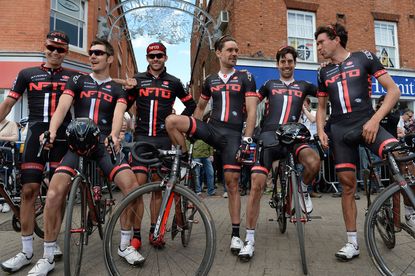 (Image credit: Andy Jones)
NFTO have pulled out of sponsoring its British UCI Continental team after four years. A new team spearheaded by former rider Tom Barras is set to replace it imminently.
The Hereford-based team came into being in 2012 as the project of John Wood, the owner of the bike shop The Shed, and has been one of the best performing teams on the domestic scene since, most memorably winning the RideLondon Classic in 2014 with Adam Blythe.
NFTO is an acronym for Not For The Ordinary and they had plans to step up to Pro-Continental status for 2016, but that never materialised. Now, Wood has chosen to step aside.
Barras, who was the team's manager last year and is the son of Sid, is to vacate the space left by NFTO by creating his own Continental team.
The application to apply for a Continental licence passed several weeks ago, but CW understands that Barras' new team has already been granted UCI status.
News of Wood ceasing partnership with the team began to surface at the Tour of Britain, but who will ride for Barras' team in 2017 is not yet known. CW is led to believe that NFTO's leading two riders, Ian Bibby and Johnny McEvoy, have signed for new teams.
A statement from NFTO read: "NFTO evolved from 'a couple of cats racing around Castle Combe' to one of the most competitive teams on the UK domestic circuit. The team has not only rubbed shoulders with, but has also consistently taken on and beaten world-class pros.
"We have nurtured some of the best riders in British cycling, from World Tour rider Adam Blythe to UK National Crit Champ Ian Bibby.
"Now however, we are ready to step aside and hand the reigns over to 2016 Team Manager Tom Barras to build on the investment and legacy with a new team – of which more exciting news is to follow.
"We would like to thank Aberdeen Asset Management, Felt, Saddleback and all of our other sponsors who have made our dream a reality. We reserve special thanks to our fans who have supported us relentlessly along the way and, above all, to a core of riders that has epitomised the power of genuine teamwork."
Thank you for reading 10 articles this month* Join now for unlimited access
Enjoy your first month for just £1 / $1 / €1
*Read 5 free articles per month without a subscription
Join now for unlimited access
Try first month for just £1 / $1 / €1