Non-BC riders Tanfield and Bigham aim to break decade-long trend with World Champs selection
Dan Bigham and Charlie Tanfield would be the first riders outside of the British Cycling programme to be selected for a World Championships for 10 years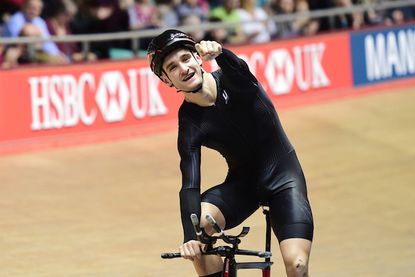 (Image credit: Alex Broadway/SWPix.com)
Team KGF riders Charlie Tanfield and Dan Bigham could become the first riders from completely outside the British Cycling programme to gain selection for a World Championships in a decade.
No-one without experience of the BC programme has been selected for a World Championships since Kate Cullen in 2008.
>>> Jason Kenny makes successful track return at Revolution (gallery)
Tanfield and KGF team-mate Dan Bigham have both been training with British Cycling's Podium Programme riders in Manchester and Mallorca in recent months under the auspices of BC head coach Iain Dyer.
Bigham said the GB coaches had "suggested" that the pair might get selected for the Worlds. He added that they had been focusing on individual events with Tanfield impressing in the individual pursuit and Bigham targeting the kilo.
Tanfield said: "I hope I get selected. I think that I've probably got the second or third fastest pursuit that someone has done this season so I think there's a medal opportunity there."
http://www.youtube.com/watch?v=rcdwTRh3sGo
When asked about his progress from amateur rider to the prospect of pulling on a GB jersey, Tanfield said: "I completely would not have expected anything like this to have happened this time last year."
Talking about the training sessions, Bigham told CW: "I think we fitted in quite well, since then they have invited us for some more sessions. They are just trying to assess us in different scenarios that you might experience on the squad."
He said there had been several days with double training sessions to see how they responded under fatigue.
Dyer said the selection panel for the World Championships was "due to meet at the end of this month".
He added: "I don't want to speculate on who may or may not be selected."
And, despite the continued interest from the Great Britain squad, Bigham revealed they were not counting on gaining selection and the KGF team, which only started at the beginning of the 2017-18 track season, would continue in 2018-19 and expand.
He said the team had already agreed to field a B-team including Tanfield's older brother Harry, who rides alongside him at Canyon-Eisberg on the road; John Archibald, brother of Olympic gold medallist Katie, and Scottish individual pursuit champion; Ethan Vernon, who is riding at the Commonwealth Games for Wales; and Simon Wilson, national Masters track champion.
Thank you for reading 20 articles this month* Join now for unlimited access
Enjoy your first month for just £1 / $1 / €1
*Read 5 free articles per month without a subscription
Join now for unlimited access
Try first month for just £1 / $1 / €1