Bradley Wiggins denies Mark Cavendish rift after team pursuit
Mark Cavendish misses out on Olympic team pursuit gold but Bradley Wiggins denies freezing the Manxman out of the line up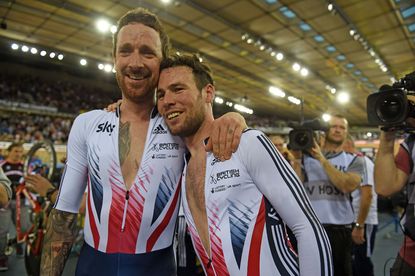 (Image credit: Andy Jones)
Bradley Wiggins has denied there is a rift between him and his Great Britain teammate Mark Cavendish after the Manxman claimed Wiggins, who won his fifth Olympic gold medal in the team pursuit on Friday evening, had frozen him out of the line-up.
Cavendish, first reserve in the team pursuit squad, missed out on a medal as GB ran with the same four-man line up of Wiggins, Ed Clancy, Steven Burke and Owain Doull across the three rounds of qualifying, first round and final. Cavendish rides in the men's omnium on Sunday and Monday.
In an interview with Sky Sports News on Thursday, Cavendish said he'd missed out on selection because Wiggins had been 'super stressed' and 'wanted to be the hero'.
>>> Bradley Wiggins: 'I wanted it to end like this'
However, Wiggins refuted the claims and said his relationship with Cavendish was back to normal.
"All this Mark Cavendish stuff, he was hugging me yesterday telling me that he loved me and it was tongue in cheek and all this. So obviously that's got a bit blown up," Wiggins said.
"The reality is we gave Mark the opportunity in Newport [at the Olympic holding camp] to come into the squad and he didn't deliver. We saw how close it was and we couldn't afford that, having been together for the best part of 18 months."
Great Britain were pushed all the way in the team pursuit final, winning by 0.743 seconds but having to set a new world record to do so after Australia led through the first 13 laps.
>>> 'Spectacular, impressive, unbelievable': rivals react to Bradley Wiggins and GB men's team pursuit gold
Cavendish is understood to have been handed the opportunity to try to make the team pursuit line-up and left the Tour de France on the second rest day in order to do so. However, despite reportedly being able to ride at a high enough pace prior to the Tour, Wiggins said Cavendish wasn't fast enough in the crucial build-up to the Games.
"And it wasn't just me," Wiggins added. "I haven't frozen him out or anything and he knows that. So ask him that question again after he's done the omnium and he'll tell you a completely different story to the one he told that Orla [Sky Sports News reporter]."
Cavendish has described Wiggins as his 'big brother' in cycling but the relationship between the pair hasn't always been smooth sailing.
Both reportedly refused to talk to each other for weeks after the 2008 Beijing Olympics, where Cavendish felt Wiggins failed to perform at his best in the Madison after winning two gold medals in the individual and team pursuits and Cavendish was left as the only member of the GB track squad without a medal.
Thank you for reading 20 articles this month* Join now for unlimited access
Enjoy your first month for just £1 / $1 / €1
*Read 5 free articles per month without a subscription
Join now for unlimited access
Try first month for just £1 / $1 / €1