Bronze for Clancy while Pendleton marches on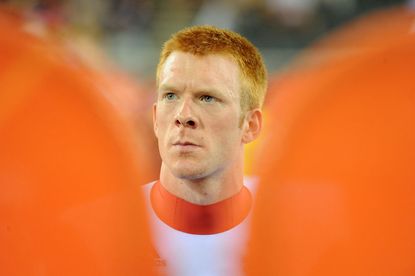 Ed Clancy won his second medal of the 2012 Games when he added omnium bronze to his team pursuit gold. Great Britain's eighth cycling medal of these games.
Sat in fifth place after five events Clancy got himself back on to the podium with a staggering ride in the kilometre time trial, the final event in the omnium.
At the end of two days of racing, that came after three rounds in the team pursuit, Ed Clancy stopped the clock at 1:00.981 seconds - just two tenths of a second off Chris Hoy's Olympic record set when he won Olympic gold in Athens 2004.
"Yeah, that is quite quick!" He said when informed of his time, an hour after the race had finished. "I've had the form of my life in the team pursuit. The [individual] pursuit blew my mind," he said. "I never thought I'd do that mid omnium, it was a crazy time."
"I kind of thought I could go fast [in the kilo]. By the time I got up there I was in the zone; smash the first lap, float the second lap and then hang on for grim death."
Clancy finished on 30 points, just three short of winner Lasse Hansen of Denmark who led coming in to the kilo. Second place for him secured him the gold. "It feels weird. I still cannot believe it. It's so unreal. It's the biggest thing that you can ever achieve for an omnium rider, so it's just a crazy feeling," Hansen said. "It's a really cool feeling, being an Olympic champion. Only the third one for Denmark. The other one (gold) was for two guys in rowing. It feels weird, but fantastic." Bryan Coquard of France won the silver.
"I thought it would be fourth place and a bit of disappointment," said Clancy. "That's why I was so happy to get a medal in the end. When I think about the big picture, looking back on this, it will be awesome."
Current omnium world champion Glenn O'Shea finished out of the medals in fifth to continue a disappointing cycling program for Australia so far. Martyn Irvine, the only Irish rider competing on the track in London, finished in 13th place on 64 points.
Although Clancy only views this as a bonus event it's only human to let a few 'what ifs' creep in. 21 of his 30 points (the rider with the lowest points tally wins) came from two events, the points and the scratch. He won the flying lap and kilometre and was second in the individual pursuit. Fifth in the elimination race kept him in the hunt, but 11th in the points race and 10th in the scratch were his undoing.
Victoria Pendleton booked her place in the women's sprint quarter finals after moving through the rounds with apparent ease.
Victoria Pendleton dismisses Willy Kanis in the sprint
Bang!
Victoria Pendleton in sprint
Clancy in scratch race
Awang and Kenny
Clancy in the kilometre time trial
Omnium bronze for Clancy
London 2012: Live text coverage of cycling events
August 5: Track cycling day four
August 4: Track cycling day three
August 3: Track cycling day two
August 2: Track cycling day one
August 1: Men's and women's time trials
July 28: Men's road race
July 29: Women's road race
London 2012: Latest news
Comment: Hindes's purposeful crash - fair or foul?
New format for team pursuit explained
Pendleton and Varnish out of team sprint
'Hot pants' key to Pendleton and Hoy sprint
Britain's sprinters looking to continue GB medal haul
Wiggins: Tour was perfect Olympic TT preparation
Olympic time trial round-up
Pendleton warms up for London 2012
Cancellara in, Evans out of time trial
CW eyewitness: Remember the name
Cavendish finds solace in commitment of his team mates
London 2012: Team info
Men's road race start list
Women's road race start list
Men's time trial start list
Women's time trial start list
Team GB rider profiles
Great Britain track team confirmed
Bronzini leads Italian Olympic cycling team
British Olympic men's road race team announced
Armitstead and Cooke lead GB women's road cycling team
London 2012: Event guides
Olympic Games men's time trial: Who will win?
Olympic Games women's time trial: Who will win?
Olympic time trial routes announced
Olympic Games women's road race: Who will win?
Olympic Games men's road race: Who will win?
Download detailed Olympic road race route map
London 2012 cycling schedule
London 2012: Reports
Bronze for Clancy while Pendleton marches on
Pendleton sets new Olympic record to qualify ahead of Meares
Trott, King and Rowsell keep gold medals coming
Kenny lights up a stuttering men's sprint competition
Track day two: Pendleton and team pursuiters deliver more gold
Track cycling day one: Hoy leads team sprinters to gold
Wiggins wins gold in men's time trial, bronze for Froome
Armstrong defends Olympic title in women's time trial
Cycling events medal table
Women's road race: Armitstead wins silver as Vos strikes gold
Men's road race: Vinokourov wins as Cavendish misses out
London 2012: Photos
Track day four evening session by Graham Watson
Track day four morning session by Andy Jones
Track day four morning session by Phil O'Connor
Track day three evening session by Phil O'Connor
Track day three morning session by Andy Jones
Track day two by Phil O'Connor
Track day two by Graham Watson
Track day one by Andy Jones
Track day one by Phil O'Connor
Track day one by Graham Watson
Men's time trial by Graham Watson
Women's time trial by Graham Watson
Pendleton track training
Women's road race by Andy Jones
Women's road race by Graham Watson
Men's road race by Andy Jones
Men's road race by Phil O'Connor
Men's road race by Graham Watson
Team GB road race training on Box Hill (July 26)
London 2012: Podcasts
Cycling Weekly podcasts on Soundcloud
London 2012: TV schedule
London 2012 BBC TV cycling coverage schedule
London 2012 Eurosport cycling coverage schedule
Related links
CW's dummies' guide to track racing
World's best BMXers in London 2012 test event
Olympic road race test event: Report card
Cavendish wins London-Surrey Cycle Classic
London-Surrey Cycle Classic photo gallery
Olympic road race route officially revealed
London 2012 tickets on sale from March
Throughout the evening Victoria Pendleton quietly went about her business in the match sprint rounds. Earlier in the day she had set an
Thank you for reading 20 articles this month* Join now for unlimited access
Enjoy your first month for just £1 / $1 / €1
*Read 5 free articles per month without a subscription
Join now for unlimited access
Try first month for just £1 / $1 / €1