Cavendish's big moment has almost arrived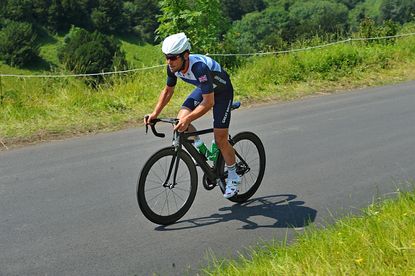 Mark Cavendish, the Manx Missile will lead the British team in the Olympic road race on Sunday, a team that has already been called the strongest ever. The 250km Olympic road race has been Cavendish's goal since winning the world title in Copenhagen last September, and the British team will ride for him and him only.
The world champion - he will not be wearing the world champ's jersey at the Olympics - will be supported by Bradley Wiggins, Chris Froome, David Millar and Ian Stannard in what is the first medal awarded at the 2012 games.
"The team came properly together Wednesday," he said. "We were out riding, motoring along in training. I just looked round and I was like: 'It's a dream team.'"
"First and second in GC at the Tour de France, four guys who won stages at the TdF and a British champion. All guys who are incredibly motivated, all guys who are incredibly patriotic. All guys who are completely loyal to each other. If we wanted to win this bike race, we couldn't be in a better position team-wise."
Team captain on the road, David Millar explained that the group will ride Cavendish's race, positioning him as well as they can, then riding him back to the front of the race if and when it splits up.
"It's easy to get carried away with it, to get emotional about it. It's nerve-wracking." He said. "I've been nervous this week. All the guys have. But we're trained to be able to deal with those nerves, and you've got to put it to bed. All the emotions."
"As unromantic as it sounds, we've got a process which we have to adhere to. It's a process that, we know, if we commit to 100 per cent and execute well, we should be in with the best chance of winning. That's what we've got to do regardless of any emotive thoughts."
"Anything that's big gives you nerves. Regardless of [if it's] the first or last on offer, it's an Olympic medal for your team. I'm incredibly proud to be British and part of this team at a home Games in London. I want to make the most of that opportunity. The other guys do too. In the Tour you've got 21 days to try and do something, here it's a one-off hit. You have to try to execute first time."
Cavendish believes he's ridden the Box Hill circuit more than 20 times in training, and says that the last time he did this much preparation for a race was the 2009 Milan San Remo - a race he won.
"I would have preferred a totally flat course, if I'm honest," he joked. "No, the course is good. I can't remember in a major championship a road as narrow as Box Hill. There's one bike plus one car wide. If the peloton's split it's going to be carnage to get a wheel. You're f**ked if you get a puncture on that climb. There are still a lot of heavy roads which is good for the British riders who are used to that."
Although he admitted there were times in the Tour de France when he felt extremely tired, but that he's come out in great shape. But his season doesn't end on Saturday, in fact, the fastest sprinter in the world won't even get a chance to celebrate. He goes to Ninove in Belgium on Sunday morning to ride the first of three lucrative post-Tour crits that night.
"I don't really celebrate," he admitted. "Even last year after the worlds, I had a pretty early night. I was the only one who wasn't drunk. I don't drink anyway. I was setting another target. That's how I always have been."
London 2012: Live text coverage of cycling events
July 28: Men's road race
July 29: Women's road race
London 2012: Latest news
Tickets for Box Hill? You may need another...
Bradley Wiggins' UKSI Olympic bike
Hoy helicoptered in for opening ceremony
Box Hill closed after local riders give security the slip
Boonen and Gilbert train on Box Hill Olympic circuit
Goss fresh for Olympic Games assault
Trott on top: London 2012
Hoy to be GB flag bearer at London 2012 opening ceremony
Millar: I think about Olympics all the time
Cavendish recognises advantage in missed Tour chances ahead of Olympics
Kenny not Hoy selected for London 2012 sprint
German and French Olympic teams sneak in fourth sprinter
Cavendish: GB's best bet for Olympic gold
London 2012: Team info
Men's road race start list
Women's road race start list
Men's time trial start list
Women's time trial start list
Team GB rider profiles
Great Britain track team confirmed
Bronzini leads Italian Olympic cycling team
British Olympic men's road race team announced
Armitstead and Cooke lead GB women's road cycling team
London 2012: Event guides
Olympic Games women's road race: Who will win?
Olympic Games men's road race: Who will win?
Download detailed Olympic road race route map
London 2012 cycling schedule
London 2012: Reports
To come...
London 2012: Photos
Team GB road race training on Box Hill (July 26)
London 2012: Podcasts
Cycling Weekly podcasts on Soundcloud
London 2012: TV schedule
London 2012 BBC TV cycling coverage schedule
London 2012 Eurosport cycling coverage schedule
Thank you for reading 20 articles this month* Join now for unlimited access
Enjoy your first month for just £1 / $1 / €1
*Read 5 free articles per month without a subscription
Join now for unlimited access
Try first month for just £1 / $1 / €1