Individual Pursuit to be cut from 2012 Olympics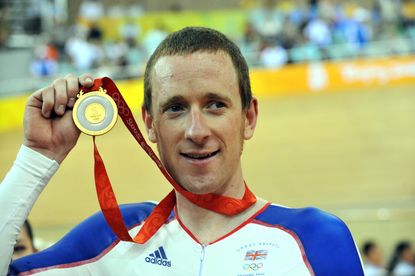 UCI President Pat McQuaid is under pressure to cut several men's events on the track at the 2012 Olympic Games after the International Olympic Committee forced him to push through gender equality in cycling.
McQuaid has until November to find consensus amongst the national federations but must decide on which men's event will disappear to make way for more women's events. The IOC is set to announce the full event schedule for London 2012 on December 12.
Cycling Weekly understands the IOC only want five events for both men and women on the track: sprint, team sprint, keirin, an omnium and the team pursuit.
That would mean the end to men's and women's individual pursuit won by Bradley Wiggins in Beijing and Athens and by Rebecca Romero in Beijing. However the extra events for women sprinters would mean Victoria Pendleton has a chance to win three medals, like Sir Chris Hoy did in Beijing.
"I can confirm that I was mandated yesterday by the UCI to work out exactly how we are going to achieve parity within track cycling for the 2012 Olympics and it is a matter we are looking at with some urgency," McQuaid said.
"The IOC want to make an announcement about the programme for London by December 12 so obviously we have to have taken everything into consideration by then and return to them with our final decision"
Cycling Weekly understands a sixth event could be included on the track. The IOC is keen to include BMX Freestyle and McQuaid could accept that, on condition that a sixth event is included. That could save the individual pursuit.
Wiggins surprised
Bradley Wiggins was surprised by the news that the men's individual pursuit could be chopped from the London Games.
"It's the first I've heard of it. It seems strange to scrap so many events but it's happened before," he said.
"I'm disappointed because it's my event that is involved, but then I don't know how exciting a pursuit is to watch or not."
"Off the top of my head, I don't think I'd be interested in the omnium, I'd probably do the team pursuit and maybe go for the individual road time trial."
Great Britain Performance Dave Brailsford knew of the planned changes, but likes the idea.
"It's always a real shame to lose some events, some in particular, for example the Madison and individual pursuit are such classics," Brailsford said.
"But I think it's exciting, innovative and it brings parity from a gender perspective. We will have to change our strategy for 2012 but we are already looking at what we are doing. I like it."
Thank you for reading 20 articles this month* Join now for unlimited access
Enjoy your first month for just £1 / $1 / €1
*Read 5 free articles per month without a subscription
Join now for unlimited access
Try first month for just £1 / $1 / €1