Latest aerial shot of the London Olympic Velodrome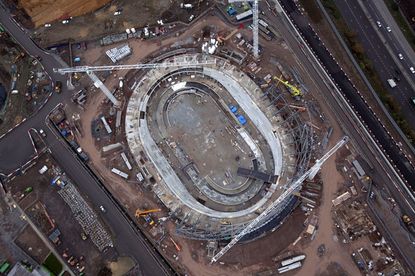 This latest overhead shot of the London 2012 Olympic Velodrome now half-complete shows its position to be more or less where the finishing straight of the old Eastway cycle circuit used to be.
The "Big Five" venues under construction on the Olympic site are transforming the land either side of the River Lea running through Hackney.
Contruction of the OIympic Stadium, the Aquatics Centre, the Village, the Velodrome and the broadcast and media centre are "firmly on track" in time for the Olympic Committee's Coordination Committee Commission visit to London.
ODA Chairman John Armitt, said: "With construction work on the Olympic Park approaching its peak, the 'Big Five' venues are already becoming landmarks on the east London skyline and show how much progress has been made since the IOC Coordination Commission visited earlier this year."
Sebastian Coe, Chairman of the London 2012 Organising Committee, said: "In a little under 1,000 days time, the eyes of the world will fall upon this part of east London. The area is being transformed, creating new communities, new housing, and state-of-the-art sporting facilities.
It is abundantly clear from thesephotographs that this piece of regeneration is well under way. Over the next year or so, we look forward to seeing the ODA continuing its excellent work so far and seeing the Olympic Park come to life - both for the Olympic Games and Paralympic Games in 2012 but also for generations to come."
Check out progress on the velodrome via the London 2012 webcam


Related links
Webcam on velodrome impresses Paul Manning
Thank you for reading 10 articles this month* Join now for unlimited access
Enjoy your first month for just £1 / $1 / €1
*Read 5 free articles per month without a subscription
Join now for unlimited access
Try first month for just £1 / $1 / €1
Keith Bingham joined the Cycling Weekly team in the summer of 1971, and retired in 2011. During his time, he covered numerous Tours de France, Milk Races and everything in-between. He was well known for his long-running 'Bikewatch' column, and played a pivotal role in fighting for the future of once at-threat cycling venues such as Hog Hill and Herne Hill Velodrome.