Laura Trott increases Olympic omnium lead as Callum Skinner drops out of keirin
Jason Kenny qualified for the second round of the keirin as Katy Marchant and Becky James ease through to women's sprint semi finals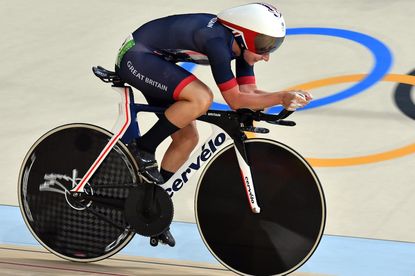 (Image credit: Watson)
Laura Trott increased her overall lead in the Olympic omnium in Tuesday's first session on the track, taking second place in the 500m time trial, the fourth event of the omnium.
Second place Jolien D'Hoore (Bel) now sits 12 points off Trott's total of 156 with Sarah Hammer (USA) close behind in third just two points behind D'Hoore.
>>> Mark Cavendish admits error in Olympic omnium points race crash
World champion Trott logged a time of 35.253 in the time trial, with Australia's Annette Edmondson riding 0.315 faster to claim the race win. D'Hoore and Hammer finished fourth and fifth respectively.
Trott will now face two more events, the flying lap and the points race, in the evening session to defend her Olympic title.
Results
Women's Omnium, 500m time trial (4/6)
1. Annette Edmondson (AUS) 34.938
2. Laura Trott (GBR) 35.253
3. Laurie Berthon (FRA) 35.275
4. Jolien D'Hoore (BEL) 35.326
5. Sarah Hammer (USA) 35.366
6. Sakura Tsukagoshi (JPN) 35.625
7. Yu Mei Hsiao (TPE) 35.636
8. Marlies Mejias Garcia (CUB) 35.655
9. Allison Beveridge (CAN) 36.247
10. Anna Knauer (GER) 36.370
Overall standings after four events
1. Laura Trott (GBR) 156
2. Jolien d'Hoore (BEL) 144
3. Sarah Hammer (USA) 140
4. Annette Edmondson (Aus) 130
5. Kirsten Wild (NED) 106
6. Laurie Berthon (FRA) 104
7. Lauren Ellis (NZL) 102
8. Tatsiana Sharakova (BLR) 98
9. Amalie Dideriksen (DEN) 98
10. Anna Knauer (GER) 76
Kenny through to second round of men's keirin as Skinner relegated
Jason Kenny had no hesitation in riding off the front of the group in men's keirin and hold on to the line in his opening round and go through to the second round.
The five-time gold medallist beat Colombia's Fabian Puerta by a half-a-wheel to make it to the second round, scheduled for Tuesday's final session, but there was no such luck for Callum Skinner.
>>> Is Jason Kenny Britain's most underrated sportsman?
Skinner finished last in his heat of the first round, but looked like he'd made up for that loss by winning the first round repechage, where only the winner qualifies.
Any celebrations were short lived however, as Skinner was relegated to last place for riding across the line of American Matthew Baranoski, almost forcing him off the track. The win and a spot in the second round was awarded to Azizulhasni Awang of Malaysia.
James and Marchant ease through to women's sprint semi-finals
British sprinters Becky James and Katy Marchant both setup a chance for medals after qualifying for the semi-finals of the women's sprint.
James beat world champion Tianshi Zhong in the first two races to go straight through, with both races coming to close finishes on the line. She'll now face Elis Ligtlee (Ned) in the next round in session two.
Marchant soared through to the semis at a canter after easily beating Simon Krupeckaite (Ltu) 2-0. The 23-year-old will now face Kristina Vogel of Germany in the next round to potentially setup a second all GB final after Skinner and Kenny went head-to-head in the men's sprint.
Thank you for reading 20 articles this month* Join now for unlimited access
Enjoy your first month for just £1 / $1 / €1
*Read 5 free articles per month without a subscription
Join now for unlimited access
Try first month for just £1 / $1 / €1