Mark Cavendish admits error in Olympic omnium points race crash
The silver medallist in the six event omnium in Rio 2016 apologises to winner Elia Viviani (Italy)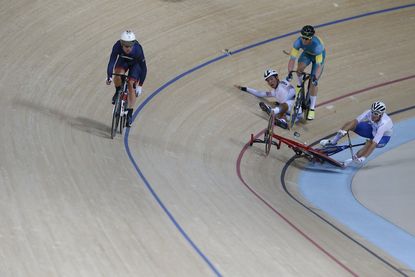 (Image credit: Yuzuru SUNADA)
Mark Cavendish admitted that he was at fault for a crash in the points race, the final round of the omnium competition at the 2016 Rio Olympic Games, that brought down eventual winner Elia Viviani (Italy) and saw South Korean rider Park Sang-hoon stretchered off.
>>> Laura Trott takes overall control in the omnium after dominating opening rounds
After picking up his silver medal, his first Olympic medal after missing out in Beijing and London, Cavendish apologised to the Italian, who got up to secure his overall win in the event.
"It was my fault. I should've looked where I was going a bit more," Cavendish said. "I hope he's all right. I apologised to Elia, who went down."
With just over half of the 160 lap points race remaining Cavendish swerved down from the banking sharply and his rear wheel collided with Park's front wheel, sending the Korean rider tumbling to the floor and bringing down a number of riders including Viviani and Australia's Glenn O'Shea.
The race was neutralised for 10 laps as Park was stretchered off the track and other crash victims rejoined the race.
Watch: My toughest day - Elia Viviani
Cavendish was upset when asked whether he should have been disqualified for the manoeuvre, responding angrily to a number of reporters who posed the question to him in the media zone in the track centre.
"He was just moving, following a move or something," said Australian rider Glenn O'Shea. "That's just track racing, you can't blame it on him. He's not intentionally going out to knock people off."
Cavendish also strongly denied that his silver medal was down to a mistake in the elimination race on Sunday when he rode down the cote d'azur (the blue band on the inside of the track) and was eliminated, saying he was frustrated with questions looking for what he called 'click-bait' answers.
"That's the thing with the omnium, you have to be consistent," he said. "Elia was consistent. Normally elimination is my strongest event. Normally pursuit's my weakest event but I was second. Swings and roundabouts."
He added that he was frustrated with being a marked man in the final points race, where rivals including Viviani, bronze medallist Lasse Norman Hansen (Denmark) and world champion Fernando Gaviria (Colombia, fourth) fought desperately to stop him gaining a lap.
"I realised I was a marked man [in the points race] from pretty early on. I kept trying to go. It was difficult. It was a strange one. I'm always going to be a marked man. And I decided halfway I couldn't get a lap; no-one was going to let me get a lap," he said.
"I felt incredible. I could see people dying and I felt better and better. But I knew at half point it was going to be difficult to get a lap and I'd just have to pick off sprints one by one."
Cavendish said he would think twice about returning to the boards in Tokyo in four years time in order to attempt to go one better and win gold due to the media attention on him in the build-up to Rio.
"I actually don't know if I can be arsed answering all to you lot [media] in four years time saying, 'you missed gold in Rio, you want to go for gold this time? It's the only thing you're missing... blah, blah'. That's probably the one thing that bugs me the most about it," he said.
Thank you for reading 20 articles this month* Join now for unlimited access
Enjoy your first month for just £1 / $1 / €1
*Read 5 free articles per month without a subscription
Join now for unlimited access
Try first month for just £1 / $1 / €1