Put it away Chris Hoy! Rider-turned-pundit caught out on camera
Sir Chris Hoy was twice caught on camera checking his phone. Was he playing Pokemon Go? Whatever, his reaction was priceless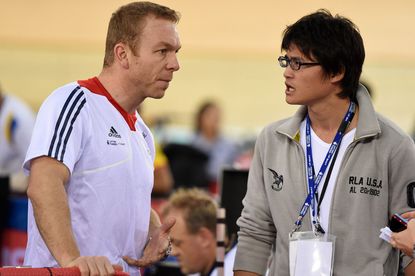 The expert punditry offered by Sir Chris Hoy on the BBC at the Olympic velodrome in Rio has been spot on every time. Explaining the basics, but also offering insight on the more complex factors like atmospheric conditions and sprint tactics, clearly comes easily to Britain's greatest Olympian.
But what got people excited on Super Saturday - apart from gold in the women's team pursuit and silver for Becky James in the women's keirin - was Sir Chris twice getting caught checking his phone on live TV.
Each time he comically hid it under his notes on the desk in front of him. The schoolboy grin on his face got people tweeting, but he gave himself a verbal warning nonetheless.
More from the Olympics
Jason Kenny and Callum Skinner set up all-British final in men's sprint in Rio

While the Twittersphere was having some fun, the BBC producer was no doubt pulling their hair out. There was some debate over what he was doing. Pokemon Go being a popular prediction.
Thank you for reading 20 articles this month* Join now for unlimited access
Enjoy your first month for just £1 / $1 / €1
*Read 5 free articles per month without a subscription
Join now for unlimited access
Try first month for just £1 / $1 / €1