Great Britain smash world record to win women's team pursuit in Rio
Katie Archibald, Elinor Barker, Joanna Rowsell-Shand and Laura Trott win the women's team pursuit in the Rio 2016 Olympic Games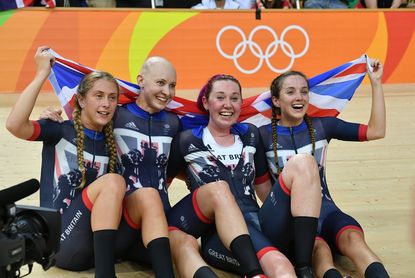 (Image credit: Watson)
Britain's women's team pursuiters delivered the goods in their final match against the USA, slashing two seconds off the world record - their third in three races - to take gold and defend their title at the Rio 2016 Olympic Games.
A close final had been expected after the two countries set times within one tenth of a second of each other in their round one races, but the British had clearly been holding something back. The race was close for the first kilometre, but the technique and horsepower in the British quartet soon started to show.
They slowly built up a lead through the second and third kilometres, and under pressure the Americans lost a rider before they'd completed 12 laps. At that point the race was as good as over.
Although the American team, the reigning world champions, clearly had the power they had always looked like they were on the limit.
A few gaps started to open up and, despite losing Joanna Rowsell-Shand, the Brits had all but won with two laps to go.
After a big turn Laura Trott let a gap open up in the final lap, but a last effort brought her over the line to deliver Britain's third gold on the track in Rio.
>>> The all-time list of Britain's most successful Olympic cyclists
After Sir Bradley Wiggins became Britain's most decorated Olympian last night, Trott became Britain's most successful female Olympian with three gold medals.
The tally puts her ahead of Dame Kelly Holmes, Victoria Pendleton and her TP teammate Rowsell-Shand. Trott is still just 24 years of age, and has chance of adding to that total in the omnium.
"You try not to think about that, but on the start line that was something I wanted to chase," Trott admitted afterwards.
>>> Rio 2016 Olympic Games: Latest news, reports and info
"I definitely [thought the record was on], but I didn't think we'd do it three times over. But Paul Manning set 4.10 for us way back when it became four kilometres."
Result
Rio 2016 Olympic Games, women's team pursuit finals
4000m (16 laps)
1. Great Britain 4:10.236 [gold medal]
2. United States 4:12.454 [silver medal]
3. Canada 4:14.627 [bronze medal]
4. New Zealand 4:18.459
5. Australia 4:21.232
6. Italy 4:28.368
7. China
Thank you for reading 5 articles this month* Join now for unlimited access
Enjoy your first month for just £1 / $1 / €1
*Read 5 free articles per month without a subscription
Join now for unlimited access
Try first month for just £1 / $1 / €1