Silver for Becky James in women's keirin in Rio; Elis Ligtlee takes gold
Britain's Becky James secures silver medal in the women's keirin at the Rio 2016 Olympic Games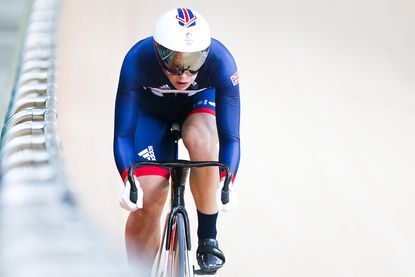 (Image credit: Alex Whitehead/SWpix.com)
Becky James continued Great Britain's haul of medals in the track cycling events at the Rio 2016 Olympic Games on Saturday, taking silver in the women's keirin.
James left herself with a lot of ground to make up on the final lap, starting from the back of the pack and accelerating past all but eventual winner Elis Ligtlee of the Netherlands in the final lap.
Anna Meares (Australia) came in for third to claim bronze.
It's a remarkable result for James, having spent nearly two years out of competition due to injury since winning two world sprint titles in 2013.
>>> Becky James and her fightback to fitness
The Welshwoman showed that she was making progress in March, when she took bronze in the track world championships in London. In Rio, she went one better to take her first Olympic medal.
Earlier on Saturday, GB had claimed gold in the women's team pursuit on their way to setting another world record.
>>> Rio 2016 Olympic Games: Latest news, reports and info
Result
Rio 2016 Olympic Games, women's keirin finals
Final standings
1. Elis Ligtlee (NED) 11.217 [gold medal]
2. Becky James (GBR) +0.033 [silver medal]
3. Anna Meares (AUS) +0.038 [bronze medal]
4. Anastasiia Voinova (RUS) +0.111
5. Liubov Basova (UKR) +0.152
6. Kristina Vogel (GER) +0.163
7. Lee Wai Sze (HKG) 11.407
8. Lee Hyejin (KOR) +0.059
9. Laurine Van Riessen (NED) +0.140
10. Martha Bayona Pineda (COL) +0.220
11. Tianshi Zhong +0.445
12. Simona Krupeckaite (LTU) +04.464
Round two heats
Heat 1
1. Kristina Vogel (GER) 11.288
2. Elis Ligtlee (NED) +0.398
3. Anastasiia Voinova (RUS) +0.533
4. Tianshi Zhong (CHN) +0.630
5. Hyejin Lee (KOR) +1.046
6. Martha Bayona Pineda (COL) DNF
Heat 2
1. Anna Meares (AUS) 11.135
2. Becky James (GBR) +0.006
3. Liubov Basova (UKR) +0.036
4. Laurine Van Riessen (NED) +0.159
5. Simona Krupeckaite (LTU) +0.192
6. Lee Wai Sze (HKG) DNF
Thank you for reading 20 articles this month* Join now for unlimited access
Enjoy your first month for just £1 / $1 / €1
*Read 5 free articles per month without a subscription
Join now for unlimited access
Try first month for just £1 / $1 / €1