Sir Chris Hoy: "Drug cheats have no place in the Olympics"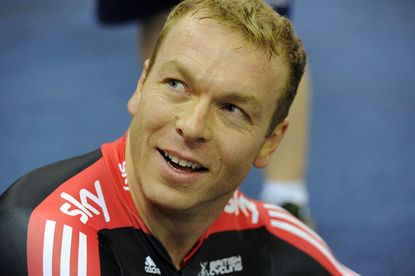 Olympic track sprint champion Sir Chris Hoy has said that convicted dopers should be banned from competing in the Olympic Games for life.
Sir Chris made the statement in his blog published on the Daily Telegraph website on Wednesday morning in support of the British Olympic Association's lifetime ban on athletes who have received a suspension for doping.
"I completely support the BOA in its stance and, frankly, I have always been pretty bemused that the rest of the sporting world hasn't followed suit," wrote Sir Chris. "Are we serious about fighting against drugs in sport or not?"
"Sometimes you have to fight for what you believe in. I admire the BOA for its stance and for sticking to its guns.
"Proven drug cheats have no place in the Olympics and just because the rest of the world is allowing such athletes to represent them doesn't mean Britain has to toe the line."
The BOA is currently at the centre of a row over its controversial life ban for dopers, which the World Anti-Doping Agency (WADA) recently announced did not adhere to its international code. The BOA is taking the matter to the Court of Arbitration for Sport (CAS) in its fight to maintain the ban.
If CAS rules that the BOA cannot impose a lifetime ban, it would leave the way clear for road cyclist David Millar to be selected for the 2012 Games. Currently, Millar cannot be selected for the Games after serving a two-year suspension between 2004-2006 for taking banned blood booster erythropoietin (EPO).
In October, CAS ruled that the International Olympic Committee (IOC) should drop its lifetime ban for those athletes who had been sanctioned for six months or more for a doping infringement.
Sir Chris is currently in training in Perth, Australia, for next year's track fixtures, culminating in the London 2012 Olympic Games in August. The Scot won three gold medals at the 2008 Games in Beijing, China - sprint, team sprint and keirin.
Related links
Former WADA boss weighs in on BOA's doping ban
BOA's lifetime Olympic ban for doping violates WADA code
Sir Chris in Foy-Hoy football mix-up
Sir Chris Hoy: Rider Profile
Thank you for reading 20 articles this month* Join now for unlimited access
Enjoy your first month for just £1 / $1 / €1
*Read 5 free articles per month without a subscription
Join now for unlimited access
Try first month for just £1 / $1 / €1