Trott stunned at double Olympic gold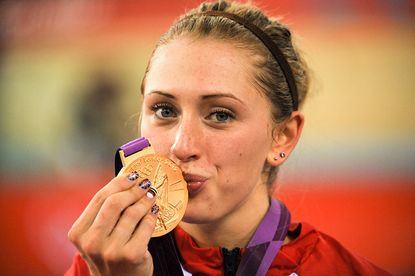 Laura Trott scored her second gold medal of the Olympic Games on Tuesday, winning the women's omnium in a tense final day at the London velodrome to add to her win in the team pursuit.
Trott literally took the newly-introduced event to the wire, overhauling American Sarah Hammer's lead in the standings before the final race with a blistering ride in the 500-metre time trial to take her third win out of the six rounds.
"I cannot believe this is happening to me," said Trott after her win. "I was losing my head a little bit between the events because they weren't going the way I wanted them to. I am so happy."
Trott managed to achieve what many thought would be impossible - to maintain her impressive form from the team pursuit and into the gruelling multi-discipline omnium. She rode with strength and tactical nous that few riders possess, let alone one making their Olympic debut.
"My coaches really helped me to peak on time," said Trott. "I couldn't ask from much more from the coaching staff. They've helped me improve so much since Worlds (championships). My family and friends are here, and the support of the crowd."
Trott's family and friends were watching in the crowd, and all seemed to be overcome at the 20-year-old's double gold medal haul. "I couldn't have done it without them," Trott said of her family. "The amount of money they put in when I was young and they had to take me everywhere. My dad had to give up his cricket. I am so happy and I cannot thank everyone enough."
London 2012: Live text coverage of cycling events
August 7: Track cycling day six
August 6: Track cycling day five
August 5: Track cycling day four
August 4: Track cycling day three
August 3: Track cycling day two
August 2: Track cycling day one
August 1: Men's and women's time trials
July 28: Men's road race
July 29: Women's road race
London 2012: Latest news
Sir Chris Hoy looking good as British cyclists look to end with a flourish
GB doing something right says O'Shea
Comment: Hindes's purposeful crash - fair or foul?
New format for team pursuit explained
Pendleton and Varnish out of team sprint
'Hot pants' key to Pendleton and Hoy sprint
Britain's sprinters looking to continue GB medal haul
Wiggins: Tour was perfect Olympic TT preparation
Olympic time trial round-up
Pendleton warms up for London 2012
Cancellara in, Evans out of time trial
CW eyewitness: Remember the name
Cavendish finds solace in commitment of his team mates
London 2012: Team info
Men's road race start list
Women's road race start list
Men's time trial start list
Women's time trial start list
Team GB rider profiles
Great Britain track team confirmed
Bronzini leads Italian Olympic cycling team
British Olympic men's road race team announced
Armitstead and Cooke lead GB women's road cycling team
London 2012: Event guides
www.mbr.co.uk (opens in new tab)
Olympic Games men's time trial: Who will win?
Olympic Games women's time trial: Who will win?
Olympic time trial routes announced
Olympic Games women's road race: Who will win?
Olympic Games men's road race: Who will win?
Download detailed Olympic road race route map
London 2012 cycling schedule
London 2012: Reports
Tremendous Trott eliminates the rest in Olympic omnium
Kenny stuns Bauge in sprint to win second gold
Bronze for Clancy while Pendleton marches on
Pendleton sets new Olympic record to qualify ahead of Meares
Trott, King and Rowsell keep gold medals coming
Kenny lights up a stuttering men's sprint competition
Track day two: Pendleton and team pursuiters deliver more gold
Track cycling day one: Hoy leads team sprinters to gold
Wiggins wins gold in men's time trial, bronze for Froome
Armstrong defends Olympic title in women's time trial
Cycling events medal table
Women's road race: Armitstead wins silver as Vos strikes gold
Men's road race: Vinokourov wins as Cavendish misses out
London 2012: Photos
Track day five by Andy Jones
Track day five by Graham Watson
Track day four evening session by Andy Jones
Track day four evening session by Graham Watson
Track day four morning session by Andy Jones
Track day four morning session by Phil O'Connor
Track day three evening session by Andy Jones
Track day three evening session by Phil O'Connor
Track day three morning session by Andy Jones
Track day two by Phil O'Connor
Track day two by Graham Watson
Track day one by Andy Jones
Track day one by Phil O'Connor
Track day one by Graham Watson
Men's time trial by Graham Watson
Women's time trial by Graham Watson
Pendleton track training
Women's road race by Andy Jones
Women's road race by Graham Watson
Men's road race by Andy Jones
Men's road race by Phil O'Connor
Men's road race by Graham Watson
Team GB road race training on Box Hill (July 26)
London 2012: Podcasts
Cycling Weekly podcasts on Soundcloud
Thank you for reading 5 articles this month* Join now for unlimited access
Enjoy your first month for just £1 / $1 / €1
*Read 5 free articles per month without a subscription
Join now for unlimited access
Try first month for just £1 / $1 / €1