Quick-Step Floors reveal royal blue jersey and shorts for 2018 season
Darker design gains white stripe for 2018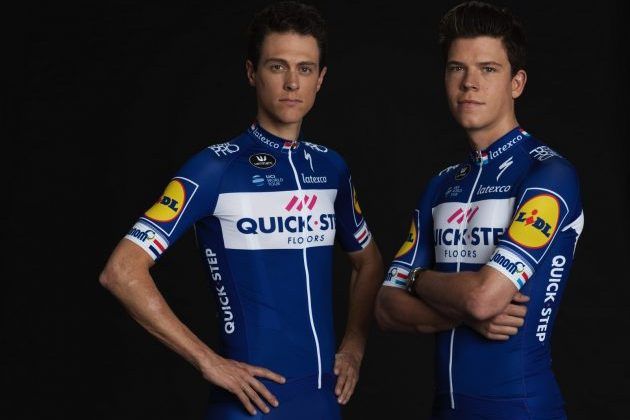 (Image credit: sigfrid eggers)
Quick-Step Floors have become the latest team to reveal their new jersey for the 2018 season, unveiling a classy royal blue kit that is one of the best we've seen so far.
The kit features a slightly darker shade of blue than last year's design, and adds in a white stripe across the chest in a manner reminiscent of Team Sky's kit for next year.
>>> Which WorldTour team has teh best kit for 2018?
Designed and created by Belgian clothing company Vermarc - which has been the team's kit supplier since 2003 and will continue in that capacity for another two years after signing a new deal - the kit gives similar prominence to the team's different sponsors as last year's all-blue design, with the logo of flooring company Quick-Step Floors across the front, and the logo of supermarket chain Lidl on the arms and, err, backside.
The only thing we're not sure about, is that the team has started officially referring to its riders as "The Wolfpack" and has even gone as far as putting a small wolf logo on the back of the jersey. Does this mean Brian Holm giving Alan's Wolfpack speech from The Hangover before every race? We'll have to confirm that one with the team...
Anyway, Bob Jungels is certainly a fan of the new kit, even if he'll have to stop winning the Luxembourg National Championships if he wants to wear it.
>>> Tom Boonen: 'I feel like cycling is already in the distant past'
"It's a really beautiful jersey, elegant and a bit more vintage than in the last years. I love it!" Jungels said.
"I also like how 'The Wolfpack' has become a visual thing now and is part of the jersey. It's already a sign, a symbol of our team, it's unity and I think that it represents the squad really well. I'm super excited about the new kit and I can't wait to show it in my first race of next year"