Robbie Hunter happy in new DS role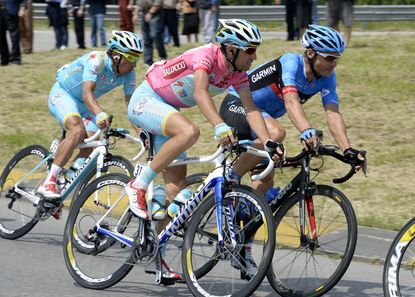 Robbie Hunter published a series of tweets last year informing the cycling fraternity he was calling time on his career despite wanting to ride one more season as a pro.
The South African was part of the peloton that contested the Tour Down Under here in Australia just 12 months ago but is now calling the shots from the Garmin-Sharp car as a sports director.
Hunter was not the only professional looking for a team amongst a flooded transfer market last year. However, he says his decision to retire from the sport was not made begrudgingly.
"I was going to do this in one year from now - that was the idea - but then it happened sooner than I thought," Hunter told Cycling Weekly.
"I could have gotten a ride but I was tired of the 16 years of phoning teams and looking for teams ... I actually sat down with my wife and said, 'look, it's maybe just time to move on and do something else.' That's the decision it came to.
"Looking back at it now it's definitely the right decision," he continued. "There's not once in the last couple of months that I've missed the bike or thought that I've done something wrong."
Hunter, who turned professional in 1999 and represented Garmin in 2010, 2012 and 2013, was in discussions with Trek and Orica-GreenEdge but nothing eventuated.
"It was kind of in the balance. After speaking and looking around I didn't want to wait to the last second of the season and then possibly ride for the money that you're not expecting," he said.
"I wanted to do one more year and that's why I looked around but then I came back and said I'd rather go straight to a DS role."
The outfit competing in Adelaide this week has overall ambitions with 23 year old Rohan Dennis, and has already come close to a stage victory via Steele von Hoff.
"I enjoy it," Hunter said of his new responsibility.
"It's not like you just sit in the car wishing that you could be out there. There's things to do - talking to the guys, thinking of things along the road, what could and couldn't happen. You're busy all the time.
"One of the good things is I've raced with a lot of the directors," he continued. "I raced with them when I turned pro so I know all of them. Obviously, all the guys in the group, I've only just stopped, so I know all of them. There's no major generational gap."
Twitter: @SophieSmith86
Thank you for reading 20 articles this month* Join now for unlimited access
Enjoy your first month for just £1 / $1 / €1
*Read 5 free articles per month without a subscription
Join now for unlimited access
Try first month for just £1 / $1 / €1