Spilled truck of chickens causes 20-minute delay in Totnes-Vire race
Riders were held up for 20 minutes on Sunday after a truck of caged chickens spilled its load and blocked the road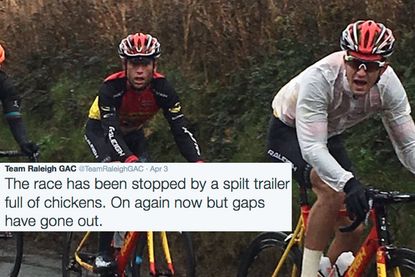 Jonathan Tiernan-Locke finished second on stage three of Totnes-Vire in Devon on Sunday, but the race was delayed by 20 minutes before the final climb as a trailer-load of chickens in crates blocked the road.
On the third of four laps, starting and finishing in Okehampton, the peloton was held up by by the accident, with some riders taking shelter in cars and borrowing coats from spectators in an attempt to keep warm, according to the Torquay Herald Express.
When the race restarted 20 minutes later, Raleigh-GAC's Alberto Torres crossed the line first ahead of Tiernan-Locke and eventual overall winner Matt Holmes of Madison Genesis.
Tiernan-Locke, who finished 22 seconds back in sixth place, says he was disappointed with his result on Saturday's first stage, with the afternoon's time trial seeing him lose 20 seconds.
"I was annoyed with myself for not winning the first road stage in the morning, and I didn't do a good time trial on the back of that," he told the Herald Express.
"I was always confident that I could do a decent ride today. It would have been good to win the stage, although Torres is quick, and I haven't finished far away overall in the end."
Thank you for reading 20 articles this month* Join now for unlimited access
Enjoy your first month for just £1 / $1 / €1
*Read 5 free articles per month without a subscription
Join now for unlimited access
Try first month for just £1 / $1 / €1