Stuart Birnie and Lynne Taylor win national 24-hour time trial titles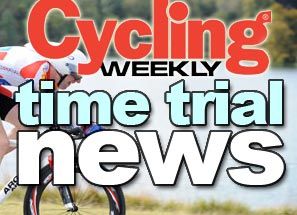 London riders dominated the podium in the National 24-Hour Time Trial Championship, with Willesden CC's Stuart Birnie being crowned national champion.
The 34-year-old from Ealing covered 518.372 miles to win the title race, based at Farndon in Shropshire but also using roads around Cheshire.
He notched up almost five miles more than his nearest rival, Rapha Condor's Ultan Coyle, also 34 and also from London who covered 513.655 miles.
And to complete the podium, Dulwich Paragon CC 40-year-old Alex Kirk covered 493.415 miles.
The riders benefitted somewhat from a brief drop in the recent temperatures, but it still proved hotter than in recent years.
Fastest of the women was multiple national champion Lynne Taylor (Born 2 Bike), the 44-year-old from Lichfield who covered 423.428 miles to place 21st overall.
Elsewhere, in-form Keith Murray (Strategic Lions) secured victory in two 25-mile events over the weekend.
The Bishop Auckland-based rider won the Adept Precision Racing Team event at Knayton, North Yorkshire, on Saturday. He clocked 50-18 to win by almost two minutes from the promoting club's Shaun Tyson with 52-09, while Yorkshire Road Club rider Carl Saint completed the podium in third, just a second further off the pace.
And 24 hours later Murray was in winning form once again when he won the Veterans TTA 25 on the Topcliffe to South Kilvington course.
This time he clocked 51-23, and took victory ahead of Team Swift's Blair Buss (52-19), while Mike Marshall (Dirt Wheels Cycles) was third with 53-46.
In Dorset, Gary Dighton (Poole Wheelers) won by more than a minute in his own club's 25 at Lytchett Matravers. His time of 52-26 meant that Stephen Walkling (VC St Raphael) was 1-03 down in second, with Greg Parker (CC Weymouth) third.
And in West Sussex, Steve Kane (Brighton Excelsior) was another rider winning his own club's promotion. He clocked 52-56 to win by just ten seconds from Pedal Heaven rival Chris McNamara.
His time slashed almost three and a half minutes from Richard Prebble's old course record.
In Cumbria, Pendle Forest CC's Jason Bateman won the Border City Wheelers' 25 at on the A66 near Cockermouth on Sunday. He was 2-34 quicker than his nearest rival, clocking 53-04, while Tony Workman (Lancashire RC) was next best.
The previous day Bateman had also won the Border City Wheelers 10 in the same area, clocking 20-39 to leave Richard Bickley (Border City Wheelers) second by 53 seconds.
Andrew Meilak (Velo Refined Aerosmiths) was a convincing winner of the VTTA (Kent) 50 at Brenzett. He clocked 1-50-56 to push Andy Miles (VC Elan) into second by 4-57, while Steve Gooch (Rye and District Wh) was third in the provisional result sheet.
Thank you for reading 10 articles this month* Join now for unlimited access
Enjoy your first month for just £1 / $1 / €1
*Read 5 free articles per month without a subscription
Join now for unlimited access
Try first month for just £1 / $1 / €1
Snowdon Sports is a long-established independent sports news agency, which supplies editorial to a range of media outlets - such as Cycling Weekly - as well as sports governing bodies. Snowdon Sports often covers results at Cycling Time Trials events in the UK and has long been a source of information and imagery to Cycling Weekly.