Tao Geoghegan Hart dedicates Trofeo Piva win to Lucien Acou
Axeon Hagens Berman rider Tao Geoghegan Hart wins Trofeo Piva and dedicates victory to Lucien Acou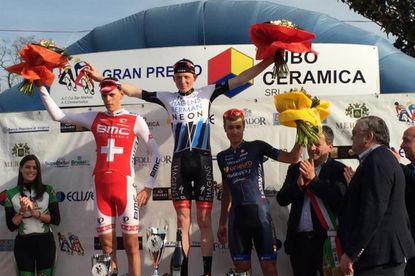 Tao Geoghegan Hart came out on top of a three-up sprint to win the Trofeo Piva in Italy on Sunday and dedicated the victory to his Axeon Hagens Berman manager's grandfather.
The Brit, who turned 21 on Wednesday, outsprinted Patrick Müller (BMC Development Team) and Marco Tecchio (Unieuro-Willier Trevigiani) at the end of the 179.8km race.
And after the race he paid tribute to manager Axel Merckx's grandfather Lucien Acou, the coach of Axel's father Eddy for many years, who died in February.
"It was a bit of a longer sprint, which was good for me," he said. "I was very patient and when I was coming past Müller, he realized it was not going to happen.
"It has been a while since I have won a bike race and it is definitely a good feeling. It may not be the biggest bike race in the world. But it is nice to dedicate this win to Axel Merckx's granddad, Lucien Acou, who passed away last month. He was a big influence on Eddy and Axel's career. Like Axel said to us at the training camp at the start of the year, we are all a little bit of "Baby Merckxs" ourselves, if that is possible."
Thank you for reading 20 articles this month* Join now for unlimited access
Enjoy your first month for just £1 / $1 / €1
*Read 5 free articles per month without a subscription
Join now for unlimited access
Try first month for just £1 / $1 / €1