Taylor and Hallam on top in Helms Memorial TT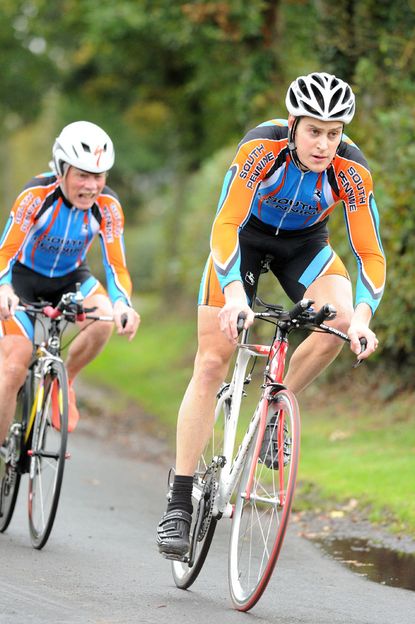 Johnny Helms Memorial GP de Gents TT photo gallery by Andy Jones>>
Marthall near Knutsford in Cheshire played host to the second Johnny Helms Memorial GP de Gents TT won this year on standard time by Charles Taylor and Ron Hallam (South Pennine RC).
The weather was mild but overcast and blustery as crowds built at the start to see the first pair off of Gordon Leicester (Coveryourcar.co.uk) and Paul Spencer (Warrington RC) at three minutes past mid-day. The pairing was fitting after the passing away of Paul's father Ron Spencer earlier this year who had done so much in organising the inaugural event and had also partnered Leicester in last year's event.
This year the start was moved to Sandhole Lane to avoid the dangerous congestion at the A537 Chelford Road. The course then headed south up Sandhole Lane in to Snelson Lane, left in to Pepper Street to start the lap. From Pepper Street and then left on to the A537 Chelford Road. Then left onto Seven Sisters Lane at Ollerton.
Left on to the A50 Holmes Chapel Road, left in to Stocks Lane and through Over Peover. On to Chelsford Lane and back on to Pepper Street to start the lap again. On the completion of the third lap it was immediately left back on to Snelson Lane to finish.
The actual fastest pairing on the new course were George Atkins and Phil Rayner (Velos Ecossie/Welland Valley CC) with a time of 49:35 giving an average of just under 28mph on the damp and greasy Cheshire lanes after drizzle came in across the Cheshire plain.
There was one incident on the day where Billy Holmes crashed along the A537 and had to be taken to hospital by air ambulance.
Pete Matthews (Liverpool Mercury) played MC to give an amusing end to the day for the prize presentations, given over by Ruth Helms back in a packed Marthall village hall.
Results on Standard
1. Charles Taylor & Ron Hallam (South Pennine RC) 01:00:20
2. Martin Kerry & Frank Kerry (Lancashire RC) 00:58:40
3. Steve Daintith & Trevor Horton (Warrington RC) 00:53:51
4. Carl Ruebotham & Derek Hodgins (Team Swift/Stockport Clarion CC) 00:59:37
Results on Actual Time
1. George Atkins & Phil Rayner (Velo Ecossie/Welland Valley RC) 00:49:35
2. Alistair Rutherford & Nige Wood (SIS/Wills Wheels) 00:51:36
3. Lee Tunnicliffe & Jon Surtees (Planet X/Team Swift) 00:52:39
Martin Kerry and Frank Kerry
George Atkins and Phil Rayner
Charles Taylor and Ron Hallam
2011 Winners Charles Taylor and Ron Hallam presented with their prize by Ruth Helms
Related links
Johnny Helms Memorial TT photo gallery
Thank you for reading 20 articles this month* Join now for unlimited access
Enjoy your first month for just £1 / $1 / €1
*Read 5 free articles per month without a subscription
Join now for unlimited access
Try first month for just £1 / $1 / €1