Team Sky sponsor explains why Gianni Moscon's wheel collapsed in dramatic TTT crash
Pro puts the blame on the team using a tyre which was too narrow for the wheel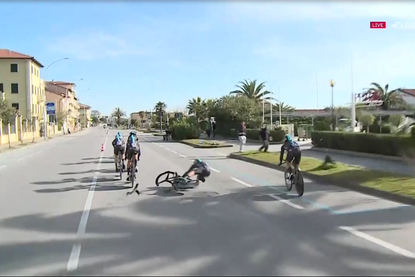 Team Sky wheel sponsor PRO has explained why Gianni Moscon's front wheel collapsed catastrophically on stage one of Tirreno-Adriatico.
After what it described as a thorough investigation, the Shimano subsidiary said that the wheel collapse was due to Team Sky mechanics fitting a tyre which was too narrow for the wheel.
"PRO conducted a thorough investigation to replicate the circumstances, to examine its strict safety standards and to ensure that the safety of riders remains the highest priority," the company said in a statement.
>>> Gianni Moscon's front wheel collapses in bizarre crash during Tirreno TTT (video)
"The investigation concluded that the 3-spoke wheel is completely safe to continue racing. The incident occurred because the rider hit a pot hole at high speed on a tyre that did not meet the minimum tyre width specification as advised by PRO.
"PRO advises all customers and riders using its 3-spoke time trial wheel to choose a minimum recommended tyre width of 24mm (622-24), to inspect the wheel for damage following impact and to stop riding in the event of a puncture."
The incident took place in the opening stage of Tirreno-Adriatico, with Moscon crashing hard midway through the team time trial.
Thank you for reading 20 articles this month* Join now for unlimited access
Enjoy your first month for just £1 / $1 / €1
*Read 5 free articles per month without a subscription
Join now for unlimited access
Try first month for just £1 / $1 / €1