Tour of Battenkill cancelled only a month after being added to UCI America Tour
Organisers unable to find way round tight budgets and lack of sponsors ahead of debut as a UCI race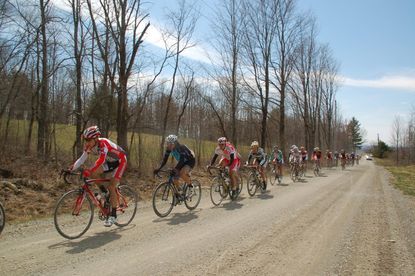 (Image credit: Ryan Kelly/Flickr)
Only a month after being added to the UCI America Tour calendar, the one-day upstate New York road race, the Tour of Batenkill, has been cancelled.
It was reported that race promoter Dieter Drake sent the news to the three teams (two men's and one women's) registered for the event, originally scheduled for June 3.
>>> How can smaller races survive in the modern era? The Tour of the Alps may have the answer
Drake declined to comment further when contacted, but posted on the Tour of Battenkill Facebook page, "Yes, the UCI Pro race on June 3rd is cancelled. No, the Tour of the Battenkill Pro/Am & Open on May 20 is not cancelled..."
After a four-year hiatus, the planned return to a UCI 1.2 status race excited some riders in the domestic pro peloton.
As one of America's only races to feature dirt sections akin to Italy's early March race in Tuscany, the Strade Bianche, the unique event was a welcome diversification to the criterium heavy pro race calendar found in the United States.
There is no word yet whether another event will step-up and take the place of the race on the first weekend of June, typically held by the long running Philadelphia Cycling Classic that was also cancelled earlier this year.
The paramount reason for the race's return was the cancelling of the former UCI race held in Philadelphia, but it seems that the short notice to round up sponsors and funds to run the race properly did not come through.
Budgets were reported much tighter for the iconic road race starting and finishing in the small village of Cambridge, New York, proving to be to difficult of a hurdle for Drake and his Anthem Sports event organization to overcome.
Most of the continental and elite teams across the country weren't interested in paying the $5,000 for men and $4,000 for women entry fees to line up at the race.
General Manager for the Sho-Air Twenty20 Women's pro cycling team expressed her dismay to Drake on Twitter last month, "That is ridiculous @dieterdrake".
Drake was quick to respond, saying: "Ridiculous is expecting event promoters to work for free. You don't, so don't demand that I do," in what turned into longer back and forth exchange between the GM and promoter.
The hefty fees were reported to cover costs of the event logistics as well as prize money, hotel rooms, online marketing content for the teams, race banners and exposition space.
As indicated by the Anthem Sports and Tour of Battenkill website, the popular amateur event will continue to move forward, set to run on Saturday, May 20.
Thank you for reading 10 articles this month* Join now for unlimited access
Enjoy your first month for just £1 / $1 / €1
*Read 5 free articles per month without a subscription
Join now for unlimited access
Try first month for just £1 / $1 / €1