Football shirts and flag waving: The Colombian fans who cheer their Tour de France heroes no matter what
The dozens of Colombian fans can be seen outside Movistar's and Cannondale-Drapac's buses each morning and afternoon at the Tour de France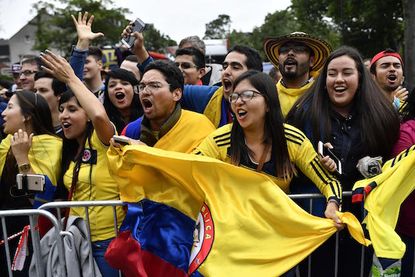 (Image credit: Yuzuru Sunada)
Some watch the finish and then, in a hurried rush, run towards the team buses. Others set up camp outside the buses long before a stage finish, waiting patiently for a glimpse, and perhaps a selfie, with their icons.
The eccentric, flag-waving, chanting and colourful Colombian fans at the Tour de France are as much a part of the race's tradition as the caravane and bunting is.
Each year they come to France to cheer on their heroes from home, and each stage they make an impression.
>>> Cannondale-Drapac boss: 'Uran and BArdet would have to be phenomenally lucky ot turn it around'
For the past few years, in support of three-time podium finisher Nairo Quintana, they have set up a near-permanent camp outside Movistar's big blue bus, both in the morning before a stage start and in the late afternoon after a stage's finale.
This year, however, with Quintana fatigued and out of form after the Giro d'Italia, there has been more interest in Rigoberto Uran (Cannondale-Drapac) who sits in third-place with two stages remaining, 29 seconds behind race leader Chris Froome (Team Sky).
His unexpected place in the podium spots has been greeted with enthusiasm by the Colombian spectators. Julian Ramirez, who has followed the Tour with friends since stage 11, hopes that his success will counter usual assumptions and stereotypes about Colombians.
>>> How will the GC contenders fare in the final Tour de France time trial?
"Everybody is really happy because he has shown that Colombia is not only about bad things," Ramirez told Cycling Weekly. "But that we are also great people, and people that can get through every problem. Rigo is a great, great person and he can come second in this Tour.
"He has been really surprising because in the last few years he has been really average, and not very good. But he has prepared really good for this Tour and has prepared mentally to win it."
Watch: Tour de France stage 19 highlights
While many pundits and fans have been shocked by Quintana's performances, Ramirez says that neither he or his fellow Colombians, back home and in France, feel let down by the rider.
"Not at all," he said. "He has given us many titles and won many races so we can say nothing about bad about him. Nairo has been a really good cyclist for four or five years. He has ridden good Tours, Giros and Vueltas. He is from our department – Boyacá – so we give him all the support we can.
"Every sportsman, a footballer, a cyclist, a boxer, if they have success in their sport, they are always welcome back as a hero. Nairo is a hero and will always be a hero."
>>> Why is it so difficult to form a successful breakaway at teh Tour de France? Riders explain
Ramirez then tailed off, distracted by the sight of Quintana wheeling towards the Movistar bus. Many fans got a photo with the dimunitive rider. One even got a kiss. Quintana tucked away on the bus, the pilgramage from South America then moved six metres to the right to wait for Uran. Different rider, same reception. "Vamoz, Rigo. Rigo! Rigo!"
"It's my first time here. It's a great party," Ramirez said. "It's wonderful. The caravane, all the people that come to see the cyclists, it's wonderful. Wonderful."
The Colombians will keep on supporting their countrymen, no matter who he is.
Thank you for reading 20 articles this month* Join now for unlimited access
Enjoy your first month for just £1 / $1 / €1
*Read 5 free articles per month without a subscription
Join now for unlimited access
Try first month for just £1 / $1 / €1