Chris Froome confronts Nibali over 'unsportsmanlike' Tour de France attack
Chris Froome went to confront Vincenzo Nibali after the finish of stage 19 of the Tour de France with the Brit angry over the Italian's attack on the Croix de Fer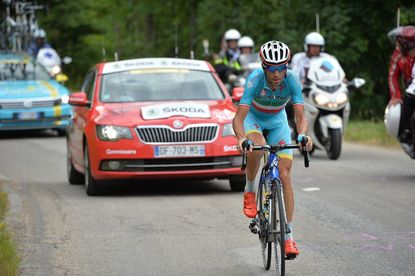 (Image credit: Yuzuru SUNADA)
Vincenzo Nibali (Astana) won the Tour de France's summit finish stage to La Toussuire-Les Sybelles on Friday, but it came with controversy. Team Sky's Chris Froome, the race leader, called the Italian's attack atop the Col de la Croix de Fer "unsportsmanlike" as the Brit suffered a problem with his bike.
2014 Tour winner Nibali attacked with 59km to race onn the 19th stage, just as Froome had a mechanical problem with his bike and put his foot down on the tarmac.
"I'm pretty sure he looked around, saw I was in trouble and attacked," Froome said. "And in my opinion you don't do that to the race leader, it's not sportsmanlike."
>>> Chris Froome spat on as he climbs La Toussuire (video)
Nibali caught and passed Pierre Rolland (Europcar) and won the stage solo. Froome marked his overall rivals, controlling an attack by second place Nairo Quintana (Movistar) who he eventually lost 30 seconds to.
When Froome arrived at the finish, he went directly to see Nibali.
"I don't deserve the words he said, they are too hard, and not right to say," Nibali said.
"He was very upset with me and I don't understand his problem. But when the race is going on, there are problems, like when Alberto Contador crashed the other day. It was only 3km later we knew [about the mechanical]. Also, today, I didn't hear any info on race radio. I just kept moving and going for the win."
Froome stopped only for a few seconds. When the TV camera moved from him to the favourites group that he was in, Nibali was attacking.
"I just suddenly felt as if my back wheel locked up," Froome added. "A bit of tar or a small stone had locked itself between my brake calipers and my back wheel so I had to stop, take the wheel backwards just to get the stone out. Unfortunately, that was the moment Nibali decided to make his move."
Astana's general manager, Alexandre Vinokourov said that they did not radio to Nibali to attack in that moment.
It was not the first incident between the two cyclists. In the stage to Le Havre in the first week, Nibali blamed a crash in the final kilometre on Froome. Afterwards, Froome rode to the Astana bus and went in to speak with Nibali.
Nibali, hoped to defend his title and win this year, but suffered in the first week. His stage win today saved his Tour and with 1-14 over Froome, moved him to fourth overall at 6-44 back.
"Not all the years are the same. Last year, I was ready to go in the first week, I was a lot stronger than in this year," Nibali said.
"We are not machines, we are humans. You can have your good years and your bad years. Look at Alberto Contador, he won the Giro, and then is having a hard time here in the Tour."
Thank you for reading 20 articles this month* Join now for unlimited access
Enjoy your first month for just £1 / $1 / €1
*Read 5 free articles per month without a subscription
Join now for unlimited access
Try first month for just £1 / $1 / €1