Hull to host three-day Grand Depart legacy race
Yorkshire will host new event organised by Tour de France organiser ASO from 2015 - Sponsor yet to be found for three-day race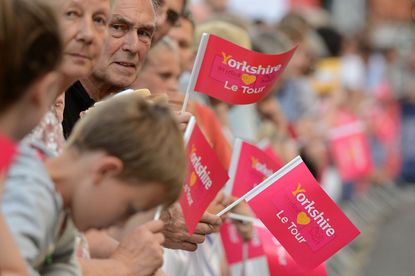 As the countdown to the Yorkshire Grand Depart ticks to a conclusion, Welcome to Yorkshire's Gary Verity, the man who with his team bought the Tour de France to Yorkshire, revealed more details about a legacy event for the county.
Verity first spoke about a new three-day race in Yorkshire earlier this year, organised by Tour owner ASO. He said: "We are working closely with ASO and British Cycling to continue the lasting legacy of Yorkshire's Grand Départ by delivering this new race for Yorkshire from 2015, which will rank as a major new addition to the global cycling calendar. It has the potential to take in wider parts of the county and will help affirm Yorkshire as a cycling heartland of Europe."
Now Verity has revealed that the race, which is scheduled to be run in May next year, could start in Hull. He told the Hull Daily Mail; "Wherever you look in Hull nowadays there is positive news. Siemens is in the process of creating thousands of jobs and then there's Hull's UK City of Culture status coming in 2017. We were disappointed not to be able to bring the Tour to Hull and the surrounding area. That's why we are going to set up this new annual race."
The route of the race is not clear at the moment, although it will take in Hull's major landmarks and use roads in the wider East Yorkshire area. It's highly likely that the race will start in the city then move east to west.
Verity added; "We will be looking for a big national brand to sponsor the race, and it will be screened around the world. There will be tens of thousands of people watching on the streets, many of whom will be from abroad because there are cycling fans all over the globe and its following is increasing day by day.
"The Tour de France has brought all sorts of economic benefits to Leeds and other parts of Yorkshire. This event will, I am sure, be just as economically successful for Hull and surrounding areas."
Three opening stages of 2014 Tour de France will take place in Britain
Thank you for reading 10 articles this month* Join now for unlimited access
Enjoy your first month for just £1 / $1 / €1
*Read 5 free articles per month without a subscription
Join now for unlimited access
Try first month for just £1 / $1 / €1
Freelance Journalist & Author
Chris has written thousands of articles for magazines, newspapers and websites throughout the world. He's written 25 books about all aspects of cycling in multiple editions and translations into at least 25
different languages. He's currently building his own publishing business with Cycling Legends Books, Cycling Legends Events, cyclinglegends.co.uk, and the Cycling Legends Podcast