Luke Rowe column: Good days and bad days at the Tour de France
"Saturday's stage was a case of ride the climbs as fast as you can, descend like crazy and see where you are at the finish"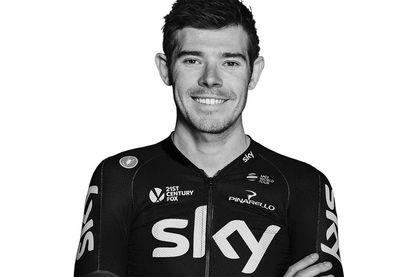 Welshman Luke Rowe is Sky's road captain and is currently riding the Tour de France. He is also a Cardiff Devils ice hockey fan.
Last weekend I think everyone was expecting fireworks and they certainly got them, as both days were raced full gas. You could see it coming all week; it was kind of like the calm before the storm.
On Saturday I had a really bad day. I've still got a few injuries from the crash on stage two and I think it all caught up with me a little bit. The stage was 187km and there were seven of us out the back with 150km to go.
We just rode as hard as we could uphill and as fast as we could downhill. We made the time cut by about five minutes in the end.
>>> Tour de France 2017: Latest news, reports and race info
On Sunday I felt so much better, like a new man. Maybe it was a bit of a shake-up of the body or whatever, but I felt good again to do my share of the work and pull on the front for the first 80-90km.
How I felt on the bike those two days was like chalk and cheese, but it was nice to go into the rest day on a good note.
There are times when you're in a gruppetto where you can calculate things — like on Sunday's stage, you can work out how to take it as easy as possible but still make the cut.
Saturday's stage to Station des Rousses, though, was a case of ride the climbs as fast as you can, descend like crazy and see where you are at the finish. There was no thought process, it was just go and hope for the best.
A lot has been said about the route of Sunday's stage and I think the descents would have been dangerous had it been dry, but with rain added into the equation it made the roads slippery like it does in any race.
Some people have said the parcours was a bit too much, but I think it's more that the stage was raced full gas by a lot of riders.
I hope everyone who crashed is OK, because I have a lot of close friends here and everyone is a colleague.
For Sky, take Geraint Thomas's crash out of the equation and on the first rest day we have the yellow jersey and have stuck some time into the other GC guys. We've had a hard weekend but everyone's in good shape, we have good morale and we're ready to battle on.
Thank you for reading 10 articles this month* Join now for unlimited access
Enjoy your first month for just £1 / $1 / €1
*Read 5 free articles per month without a subscription
Join now for unlimited access
Try first month for just £1 / $1 / €1