Paris police shoot at car that attempted to crash through Tour de France barriers
The incident took place on the finishing circuit of stage 21 on the Place de la Concords, with the occupants of the car escaping afterwards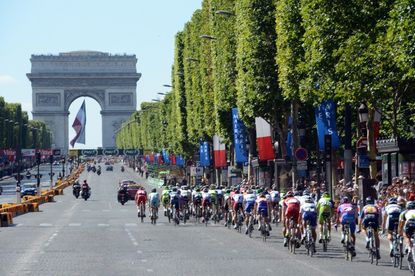 (Image credit: Watson)
Shots were fired in Paris on Sunday on the final circuit of stage 21 of the 2015 Tour de France, as French police attempted to apprehend two people in a car that were trying to crash through the barriers on the route.
A police official confirmed shortly after the incident, that took place at 11am local time on the road around the public square, that shots had been fired after the vehicle rammed the barriers at high-speed and that the two males inside had escaped with the car. Police are continuing their hunt for those involved and there are no reported injuries.
>>> Mark Cavendish vs André Greipel in Tour de France's final sprint showdown
The incident is thought to have no impact on the final stage of the Tour, which arrives around eight hours after the incident took place, with a police official telling Reuters: "This is a minor incident. It wasn't aimed at the Tour de France, it's not terrorism, it's just a simple refusal to comply, as there are many every day."
Police remain on high alert in France's capital after terrorist attacks in the city earlier this year, but Tour race director Thierry Gouvenou said that he did not foresee any impact on the race.
The peloton is expected to arrive on the Champs-Élysées at around 17.30 local time, as Britain's Chris Froome (Team Sky) prepares to wrap-up his second career victory in the world's biggest bike race.
Thank you for reading 20 articles this month* Join now for unlimited access
Enjoy your first month for just £1 / $1 / €1
*Read 5 free articles per month without a subscription
Join now for unlimited access
Try first month for just £1 / $1 / €1