Seven of the best Tour de France time trials (video)
Remind yourself of those Tour time trials that will long be remembered.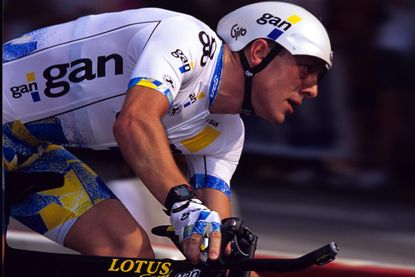 For the first time since 2012, this year's Tour de France will begin with a time trial. Indeed, the 13.8-kilometre test around Utrecht is the race's sole individual time trial, and is unlikely to have that great an impact on deciding who wears yellow in Paris.
However, there have been numerous Tour time trials that will long be remembered for helping determine the outcome of the race; below are seven that you may wish to remind yourselves of ahead of tomorrow's Grand Départ.
Prologue, 1989: Luxembourg, 7.8km
When modern riders spout such boring phrases such as "I'm taking the Tour day by day", you have to wonder how much they've been inspired to say as much by the opening stage of the 1989 race. Defending champion Pedro Delgado turned up late for the prologue; he went to warm up away from the media and fans, but ended up so far removed from the course that he ended up starting 2:42 after his scheduled departure. The Spaniard placed third in Paris, and wouldn't have finished any higher had his faux pas had not have happened.
https://www.youtube.com/watch?v=PVTtk3JMqoM
Stage 19, 2012: Bonneval-Chartres, 53.5km
This was the day that Chartres, a commune to the southwest of Paris, got taken over by British fans who flocked there to watch Bradley Wiggins seal his historic Tour victory. He did so in some style, too, winning the stage ahead of Sky team-mate Chris Froome.
https://www.youtube.com/watch?v=MQpOVhsgkD8
Stage 12, 2003: Gaillac-Cap Découverte, 47km
Proof that Lance Armstrong was struggling for form in the 2003 Tour came in the race's first true test against the clock. Starting in sixth overall at the start of the stage, Jan Ullrich rediscovered the time trialling form that he used so well in the 1996 and 1997 races to propel him back into GC contention. However, Armstrong struggled in the warm temperatures along the course and lost 96 second to Ullrich. The Texan claimed afterwards he shed six kilograms in weight because of dehydration, which is nothing compared to the millions of pounds he's lost since USADA busted him at the end of 2012.
(Ed - look out for Ned Boulting in the clip, who was covering his first Tour at the time)
https://youtu.be/H1D1ZVuseEE?t=32m11s
Prologue, 1994: Lille, 7.2km
Chris Boardman. On his Tour de France debut. We all know what happens next. His average speed of 55.152km remains a record for a Tour prologue.
https://www.youtube.com/watch?v=IH4GQnmXc3w
Prologue, 1995: Saint-Brieuc, 7.3km
Chris Boardman. In a wet prologue. We all know what happens next. Pat yourself on the back if you can correctly recall who was the day's surprise winner before the video reveals as much.
https://youtu.be/7IhnvoTvyhI?t=1h22m15s
Stage nine, 1992: Luxembourg-Luxembourg, 65km
Any #haters who thought Bradley Wiggins's 2012 Tour victory owed everything to his performances in the time trials should look at the 1992 race. In the race's longest stage against the clock, Miguel Indurain beat nearest challenger Armand De Las Cuevas by three minutes and caught former race winner Laurent Fignon, who had started six minutes before him.
https://www.youtube.com/watch?v=TrWUPV6VKpM
Stage 21, 1989: Versailles-Paris, 24.5km
The most famous Tour time trial of all time: Laurent Fignon versus Greg LeMond in a straight shoot-out to the heart of the French capital, immortalised here with a hideously 1980s-sounding soundtrack.
https://www.youtube.com/watch?v=rWyfb3H7LEg
.
Thank you for reading 20 articles this month* Join now for unlimited access
Enjoy your first month for just £1 / $1 / €1
*Read 5 free articles per month without a subscription
Join now for unlimited access
Try first month for just £1 / $1 / €1