Tony Gallopin will celebrate Tour de France lead on Bastille Day
The French have something extra to celebrate during Bastille Day on Monday: a Frenchman in the lead of the Tour de France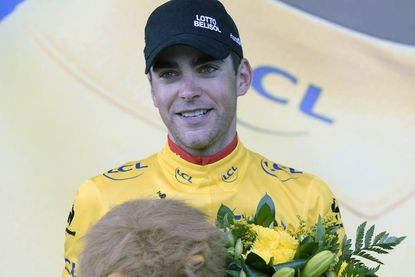 (Image credit: Graham Watson)
Tony Gallopin. A Frenchman in yellow for Bastille Day. It's so French you could keep cheese in it. Last time that a Frenchman took the lead in the Tour de France it was Tommy Voeckler in 2011. The time before that was 2004, and that was Tommy Voeckler as well.
Gallopin (Lotto-Belisol) is from one of the grand families of French cycling. His father Joel and uncle Guy rode ten Tours de France between them in the 1970s and 80s. His uncle Guy was French time-trial champion, and is now a directeur sportif at Trek Factory Racing. But Tony will take pride of place in the family's palmares as the first Gallopin to wear yellow.
His directeur sportif at Lotto-Belisol, Marc Wauters, said, "Getting the jersey was never the plan to day. We were thinking about maybe the stage victory – but Tony Martin was too strong. So then we started to think about the lead. We'll certainly try to control the race tomorrow to Planche des Belle Filles – but remember that Tony isn't our main GC rider, that's Van Den Broeck."
Meanwhile, at Astana, who'd let the jersey go, team spokesman Chris Baldwin said, "It's a calculated risk. As us if it was smart at the end of the race. But we don't have to work tomorrow now. It's Bastille Day, with a Frenchman in yellow, and that means the pressure is off us until at least after Tuesday's rest day."
Thank you for reading 5 articles this month* Join now for unlimited access
Enjoy your first month for just £1 / $1 / €1
*Read 5 free articles per month without a subscription
Join now for unlimited access
Try first month for just £1 / $1 / €1
Michael Hutchinson is a writer, journalist and former professional cyclist. As a rider he won multiple national titles in both Britain and Ireland and competed at the World Championships and the Commonwealth Games. He was a three-time Brompton folding-bike World Champion, and once hit 73 mph riding down a hill in Wales. His Dr Hutch columns appears in every issue of Cycling Weekly magazine
As a writer, he wrote the award winning The Hour about his attempt on the sport's most famous and sought-after record. He followed that up with Faster, about the training, the science the genetics and the luck behind the world's fastest riders, and Re:Cyclists, a history of cyclists from 1816 to the present day.
He's written for outlets ranging from Cycling Weekly to the New York Times, and has presented and and commentated for the BBC, Eurosport, Channel 4, and Sky Sports.
Before he did any of that he was a legal academic at Cambridge and Sussex universities. He now lives with far too many bicycles in London and Cambridgeshire.