Tour de France 2011 - Route details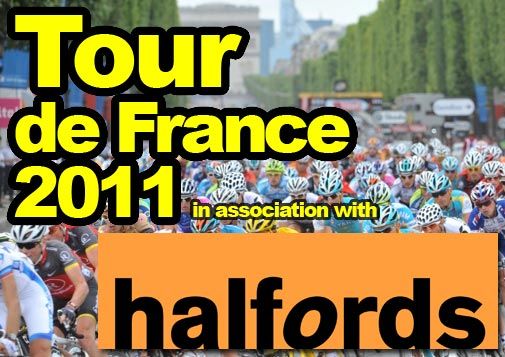 The route of the 2011 Tour de France was presented in Paris in the autumn, but there were very few surprises as the route had been leaked on the internet weeks before.
The Vendée region hosts the Grand Depart before the race heads north in to Brittany and then down through the centre of the country. 
The first mountain range is the Pyrenees with the Alps being celebrated in the final few days of the race that includes two passes of the Galibier, one of the highest roads in the Alps.
The final time trial, on the penultimate day of the race, will be around the city of Grenoble. There is also a team time trial on stage two. However, this is just 23km long and, according to ASO, is flat fast and for the specialists.
2011 Tour de France
Stage 1: July 2, Passage du Gois - Mont des Alouettes 191km
Stage 2: July 3, Les Essarts - Les Essarts 23km TTT
Stage 3: July 4, Olonne-sur-Mer - Redon 198km
Stage 4: July 5, Lorient - Mur-de-Bretagne 172km
Stage 5: July 6, Carhaix - Cap Fréhel 158km
Stage 6: July 7, Dinan - Lisieaux 226km
Stage 7: July 8, Le Mans - Chateauroux 215km
Stage 8: July 9, Aigurande - Super-Besse Sancy 190km
Stage 9: July 10, Issoire - Saint-Flour 208km
Stage 10: July 12, Aurillac - Carmaux 161km
Stage 11: July 13, Blaye-les-Mines - Lavaur 168km
Stage 12: July 14, Cugnaux - Luz-Ardiden 209km
Stage 13: July 15, Pau - Lourdes 156km
Stage 14: July 16, Saint-Gaudens - Plateau de Beille 168km
Stage 15: July 17, Limoux - Montpellier 187km
Stage 16: July 19, Saint-Paul-Trois-Châteaux - Gap 163km
Stage 17: July 20, Gap - Pinerolo 179km
Stage 18: July 21, Pinerolo - Galibier Serre Chevalier 189km
Stage 19: July 22, Mondane - Alpe d'Huez 109km
Stage 20: July 23, Grenoble - Grenoble 41km ITT
Stage 21: July 24, Créteil - Paris Champs Élysées 160km
Click map to view in more detail
Mark Cavendish and Andy Schleck point at a map of France
Tour de France 2011: Related links
Cavendish challenging for up to eight stages in 2011 Tour de France
The mountains of the 2011 Tour de France
Two Etape du Tours in 2011
Cycling Weekly's 2010 Tour de France coverage