Two Etapes in 2011: the long and short of it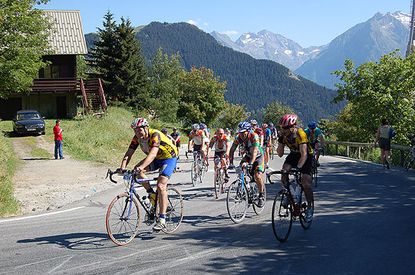 The publication of next year's Tour de France route route sheds further light on the nature of the 2011 Etape du Tour.
Or should we say Etapes?
Although dates have yet to be confirmed, Cycling Weekly understands there will be two Etapes next year - allowing more average Joes a taste of riding the Tour de France.
One will celebrate a century of the Alps in the Tour de France by tracing the route of stage 19 from Mondane to Alpe d'Huez.
This tackles the legendary ascents of the Télégraphe, Galibier and, of course, the Alpe - all locations of many great battles in the Tour.
Although the route includes over 4,000 vertical metres of climbing, the stage is short at a mere 109km.
And while the compact route should make for an explosive day on the actual race, the shorter distance should help reduce the high rates of non-finishers (up to 30%) of recent Etapes.
The last time the Etape ascended the 21 hairpin bends of Alpe d'Huez was in 2006.
At 208km, the other version of the 2011 Etape is almost twice as long as the Alpine edition and not necessarily any easier.
This will take place between Issoire and Saint Flour in the Massif Central, replicating the ninth stage of next year's Tour de France.
At 1,589m above sea level, the Col du Pas de Peyrol (Le Puy Mary) is the highest point on the route - almost a kilometre lower than the Galibier's 2556m summit.
However, what the Saint Flour Etape lacks in monster climbs, it makes up for in frequency.
A long ascent up on to the central plateau precedes the Puy Mary, while five distinct climbs quickly follow it.
Even when the spikes on the route profile subside in the final 50km, it's worth remembering that the roads around this area are notoriously heavy and undulating.
It's not the first time the Etape du Tour has come this way. In 2004 it traced a 239km route between Limoges and St Flour, also going over the Puy Mary.
The fastest rider that day -former pro Jean-Christophe Currit- described it as "a real slog of a stage".
Related links
The mountains of the 2011 Tour de France
Cavendish challenging for eight stages at the 2011 Tour
Thank you for reading 20 articles this month* Join now for unlimited access
Enjoy your first month for just £1 / $1 / €1
*Read 5 free articles per month without a subscription
Join now for unlimited access
Try first month for just £1 / $1 / €1