Triple national champion Dan Bigham targeting Commonwealth Games medal
Brother NRG Driveplan rider Dan Bigham believes that he could medal at next year's Commonwealth Games in a number of track events.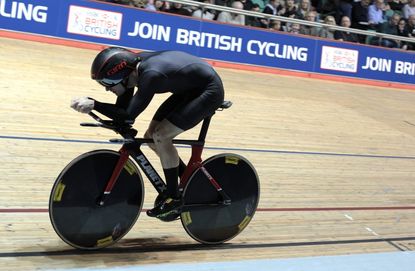 (Image credit: Dean Reeve)
Following a memorable weekend in which he became British champion in three separate track disciplines, Dan Bigham is now targeting selection to the 2018 Commonwealth Games.
The Brother NRG Driveplan rider, little-known outside inner circles until last Friday, took victory in the kilo, team pursuit and individual pursuit races at the National Cycling Centre in Manchester last weekend.
Now, the 25-year-old is hoping that his results, coupled with the scientific knowledge that has seen him work in Formula 1 and currently pays his wages, can encourage British Cycling to take a punt and involve him in their Academy squads, with the long-term aim of riding in the April 2018 Commonwealth Games, taking place in the Gold Coast, Australia.
While Bigham appreciates the need to continue his road career - his best result thus far was coming third in the Beaumont Trophy last summer - he hopes that the national governing body would welcome his services.
"I want to stay on the track while I can, do as much track as possible with the thought of the Commonwealth Games selection in the next 12 months," he told Cycling Weekly. "I would love to think that [British Cycling's] door is open and I could speak to them to hear their thoughts on where I need to be in terms of selection."
>>> Dr Hutch: Long time trials are more like an awkward eating competition
Bigham beat his trade teammate Charlie Tanfield to individual pursuit gold last Friday, posting a winning time of 4.22:545. The British record is 4.11:114, set in 1996 by Chris Boardman in the infamous Superman - and now banned - position.
But Bigham believes that he is just as fast as other riders in the discipline who are or have recently been a member of the Academy team. He added: "In terms of selection with other members of their team, I am competitive with their big riders, such as Andy Tennant and Owain Doull. The times they do I can do on the track.
All you need to know about the team pursuit
"My 4.22 would have got fifth at the 2014 Commonwealths [ahead of Tennant, but behind Doull in third] and I had had a really bad qualifier last weekend.
"I reckon I could have gone sub-20, and a time like that would have me in a medal ride-off at the 2014 Games.
"With another 12 months of training - considering I have only been properly training on a bike for two years - I think I could push on and a medal would be absolutely awesome and that's definitely a possibility.
"I also feel that with my background in elite sports - I have worked for British Athletics and as an aerodynamicist in Formula One - I can bring a lot off the track to the team with my own ideas and hopefully bring the team on."
The tactics Brother NRG Driveplan used in their team pursuit success were rather unconventional, with certain riders doing mammoth turns. That, Bigham says, shows his strength in that event, too.
"The speed the GB Academy guys were doing for one or two lap turns, I was doing for three and four lap turns. I can fit in there as well. I've got to have that conversation with GB and see if there's a chance."
Thank you for reading 5 articles this month* Join now for unlimited access
Enjoy your first month for just £1 / $1 / €1
*Read 5 free articles per month without a subscription
Join now for unlimited access
Try first month for just £1 / $1 / €1