Fastest individual pursuit times in history
The individual pursuit was the blue ribbon event of track cycling prior to the UCI dropping it from the Olympic program for the 2012 Olympics. In the 1990's Graeme Obree and Chris Boardman took the event to another level, and after a recent hiatus, riders are once again going faster and faster. Here's a list of the fastest times in the history of the men's event.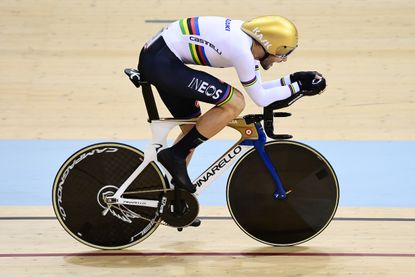 The individual pursuit may have been pulled from the Olympic Games but the track cycling competition over four kilometres is still contested at the UCI Track World Championships, National Championships, selected World Cup rounds and other international and national competitions.
And it's getting faster and faster with almost every competition.
The new name on top of the leaderboard is Italian Filippo Ganna who twice broke the world record at the Minsk track world cup at the end of 2019. The three time world champion and Team Ineos rider is now just over two seconds away from breaking the four minute barrier.
Many of the gains have come from an increasingly sophisticated understanding of aerodynamics. What was once the preserve of the well funded nations, is now available for all nations competing at this level.
http://www.youtube.com/watch?v=GJVYeVVfX8I
Fastest 4000-metre individual pursuit times
4-02.647 WORLD RECORD
Filippo Ganna (ITA)
Minsk, Belarus. UCI track World Cup Nov, 2019 (Final)
4-04.252
Filippo Ganna (ITA)
Minsk, Belarus. UCI track World Cup Nov, 2019
4-07.251
Ashton Lambie (USA)
Aguascalientes, Mexico, Pan American Championships 2018
4-07.456
Filippo Ganna (ITA)
Pruszkow, Poland. 2019 UCI track cycling world championships
4-09.091
Domenic Weinstein (GER)
Pruszkow, Poland. 2019 UCI track cycling world championships
4-09.584
John Archibald (HUUB Wattbike)
Manchester, UK. British track national championships 2019
4-09.843
John Archibald (HUUB Wattbike)
Minsk, Belarus. UCI track World Cup Nov, 2019
4-10.177
John Archibald (HUUB Wattbike)
Grenchen, Switzerland, UCI international competition 2018
4-10.391
Stefan Bissegger (GER)
Minsk, Belarus. UCI track World Cup Nov, 2019
4-10.534
Jack Bobridge (Australia)
Sydney, Australian National Track Championships 2011
4-11.114*
Chris Boardman (Great Britain)
Manchester, World Championships final 1996
4-11.455
Charlie Tanfield (England)
Brisbane, Commonwealth Games 2018
4-11.764
Davide Plebani (ITA)
Pruszkow, Poland. 2019 UCI track cycling world championships
4-11.957
Alexander Evtushenko (RUS)
Pruszkow, Poland. 2019 UCI track cycling world championships
4-12.172
Jordan Kerby (Australia)
Hong Kong, China, World Championships, April 2017
4-12.253
Charlie Tanfield (Great Britain)
Minsk, Belarus, World Cup, January 2018
4-12.365
Ivo Oliveira (Portugal)
Apeldoorn, Netherlands, World Championships 2018
4-12.886
Ashton Lambie (USA)
Pruszkow, Poland. 2019 UCI track cycling world championships
4-13.007
Edison Bravo (Chile)
Aguascalientes, Mexico, Pan-Am Championships, October 2016
4-13.068
John Archibald (Scotland)
Brisbane, Commonwealth Games 2018
4-13.353*
Chris Boardman (Great Britain)
Manchester, World Championships 1996
4-13.399
Rohan Dennis (Australia)
Sydney, Australian National Track Championships 2011
4-13.448
Charlie Tanfield (Great Britain)
Portugal, Trofeu Internacional de Anadia, December 2017
4-13.453
Domenic Weinstein (Germany)
German National Championships 2017
4-13.607
Filippo Ganna (Italy)
Apeldoorn, Netherlands, World Championships 2018
4-13.662
Filippo Ganna (Italy)
Apeldoorn, Netherlands, World Championships 2018
4-13.786
Alexander Evtushenko (Russia)
Apeldoorn, Netherlands, World Championships 2018
* Set using the Superman position, which has been banned
Thank you for reading 20 articles this month* Join now for unlimited access
Enjoy your first month for just £1 / $1 / €1
*Read 5 free articles per month without a subscription
Join now for unlimited access
Try first month for just £1 / $1 / €1