Peloton prepare for monstrous day in the mountains at Vuelta a España
It's days like this that you probably wish you weren't a professional cyclist, but it days like this that you definitely enjoy being a fan of professional cycling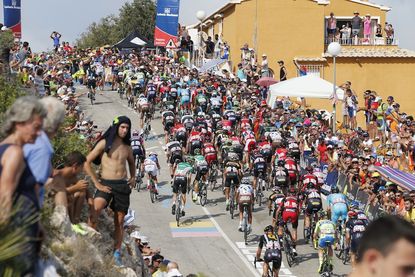 (Image credit: Yuzuru SUNADA)
You'd imagine that sometimes professional riders might think about finding the person who designs some of the mountain stages of Grand Tours and at the very least, giving them a few choice words over why they felt the need to place such mammoth uphill tests in a bike race which already lasts three weeks.
This time though, that person will be right in front of them. Whether he thought this was the stage in which he could win the 2015 Vuelta a España, or whether he's just got some sadistic love of self-punishment, Joaquim Rodriguez probably won't be short of a few comments from his fellow riders after having a helping hand in designing the colossal 11th stage in Andorra.
If you haven't seen the shark tooth profile yet, then here it is...
...not a flat road in sight.
While Purito might attract the ire of some of his fellow professionals for constructing a brutal 138km stage with no less than six categorised climbs (the same as his sportive...good luck with that one), including a summit finish, it is likely to provide the biggest shake-up in GC so far in this already hilly Vuelta. And some riders seem to be secretly looking forward to it.
Although not Nicholas Roche...
It's not just the number of climbs the riders will be needing to worry about either, with some of the climbs hitting some serious gradients. The Coll de la Gallina, the only especial climb en route, maxes out at 17% while it averages 8% over its 12km. And once they've suffered through that, there's still two climbs to come.
Most riders are purely going to be trying to survive a day like this and they won't be pleased to see that their last kilometre of climbing for the day will end with an average gradient of 7.8% on the Cortals de Encamp, which is where the big climbers will still be fighting it out even after all that climbing.
Stage designer himself, Purito sits 57s off the race lead an will be eyeing the red jersey of Tom Dumoulin on Wednesday's stage, saying it is "something special" and that the "climbers will be delighted".
Climber or not, this looks to be one of the hardest stages in Grand Tour history and will hoepfully make for some spectacular viewing...even if the riders don't quite agree.
Thank you for reading 5 articles this month* Join now for unlimited access
Enjoy your first month for just £1 / $1 / €1
*Read 5 free articles per month without a subscription
Join now for unlimited access
Try first month for just £1 / $1 / €1