'We've just got to hope he's getting slow': Dan Martin hoping to finally conquer Valverde at Flèche Wallonne
The slightly tougher route of the mid-week Ardennes Classic should play into the Irishman's favour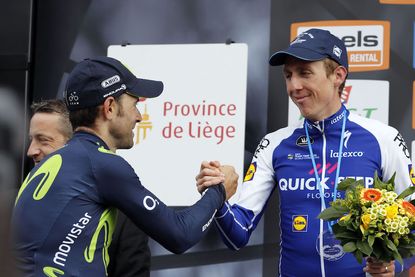 (Image credit: Yuzuru SUNADA)
Though he's finished on the podium at Flèche Wallonne three times, and in the top 10 a further two occasions, Dan Martin is yet to win the hilly Belgian Classic.
Starting in Seraing near Liège, Wednesday's 198.5km race is two kilometres shorter than last year's event, but has 11 classified climbs spread throughout the parcours, rather than the eight backloaded ascents of 2017. The finish line has not moved, however, which the line coming at the top of the fearsome Mur de Huy and its 20 per cent gradients.
>>> La Flèche Wallonne 2018: all you need to know
"It's a lot harder course this year and potentially that suits me," Martin told Cycling Weekly. "I think there will be a more select group into the bottom of the Mur which helps positioning, but it is a long race and you've got to get there."
Other than 2015, when a crash scuppered his hopes, Martin has been on the podium in each edition since 2014 and on each occasion Alejandro Valverde (Movistar) has been victorious. Valverde has now won the race five times - more than any other rider - last year being his fourth consecutive victory.
"We have just got to hope he is getting slow," laughed Martin when asked how to beat the Spanish rider. "I have been thinking about it a lot all season and there's ways I can improve in the race.
"Flèche always comes to the sprint up the hill," Martin continues. "But it depends on what condition you can get to that last sprint.
"Last year I was on Alejandro's wheel at the bottom but lost position because it was raced differently to other years. It was almost like the finish line was at the corner and I hesitated, I knew guys couldn't do that to the finish and they stopped dead and blocked the road."
For some viewers Flèche Wallonne has the reputation of being five hours of boredom with five minutes of action on the one kilometre climb of the Mur de Huy and its 20 per cent gradients.
Despite trailing Martin when stage three of the 2015 Tour de France finished there, Valverde seems to have mastered the art of winning on the Mur, though Martin can nearly match his consistency.
"I have developed the knack of judging the effort and that is why I have got such a good record there. People make a lot of me coming from so far back with 200 metres to go, but maybe I have judged it right and they haven't because that's why I come past them.
"It is very easy to say you're too far back but at the end of the day it's where the finish line is."
Martin's former Quick-Step team-mate Julian Alaphilippe has also done well on the Mur. Second in two of Valverde's recent victories, the Frenchman missed last year's race but is back with good form this year.
"Hopefully it's going to be a three way sprint between me Alejandro and Julian," concludes Martin, hoping it will finally be him on the top step of the podium.
Thank you for reading 20 articles this month* Join now for unlimited access
Enjoy your first month for just £1 / $1 / €1
*Read 5 free articles per month without a subscription
Join now for unlimited access
Try first month for just £1 / $1 / €1