RCS Sport signs agreement to organise Dubai Tour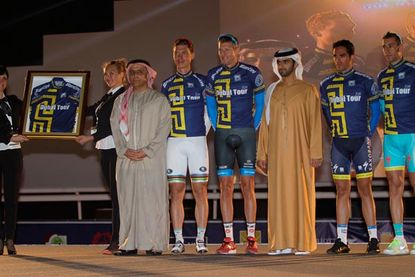 Giro d'Italia organiser RCS Sport has signed an initial agreement to organise the inaugural Dubai Tour in 2014.
The Dubai Sport Council approached the Giro organiser to get behind the new United Arab Emirates bike race to make sure that it is 'up to standard'. The two parties signed a memorandum of agreement on January 4.
"This agreement with RCS Sport comes in an attempt to reinforce the efforts of the Council in organizing Dubai Tour as per international standards, making it an international race since its offset and making all cyclists look forward to participating in it," said Doctor Ahmed Al Sharif, Dubai Sports Council Secretary General.
Pro cyclists Alberto Contador, Vincenzo Nibali, Ryder Hesjedal and Tony Martin were all present in Dubai for the official unveiling of the event, complete with leader's jersey and race logo designed by Italian fashion house Versace. The quartet also took part in an exhibition race on part of a new 67km cycle circuit in Dubai.
The Middle East currently hosts two high-profile races organised by Tour de France owner ASO: the Tour of Oman and Tour of Qatar.
The Dubai Tour leader's jersey was dsigned by Versace
Tony Martin, Ryder Hesjedal, Alberto Contador and Vincenzo Nibali at the race launch
Thank you for reading 20 articles this month* Join now for unlimited access
Enjoy your first month for just £1 / $1 / €1
*Read 5 free articles per month without a subscription
Join now for unlimited access
Try first month for just £1 / $1 / €1