Rowsell, Trott and co. check out London velodrome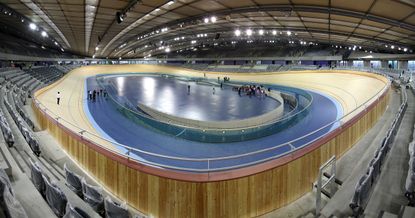 Britain's female pursuiters got their first look at the London velodrome yesterday as enjoy a mini training camp in the Olympic park this week.
Laura Trott, Wendy Houvenaghel, Joanna Rowsell, Sarah Storey and Dani King will spend three days on the track, before three of them head on to Cali, Colombia for the track world cup.
Rowsell, who hails from Cheam in Surrey, has been here before, but it was nothing like this. "The last time i was here was when i was racing at Eastway as a junior for Sutton CC in 2005," she said.
The structures are really impressive, but once you're inside you could be anywhere in the world. There's still people workingin the velodrome. They're still doing the BMX track outside so there's dust coming in. there was a guy cleaning it with a machinewhen we got there, so we had a nice clean track to ride on.
Each of the riders had the track to themselves for a few laps before sitting down in the track centre and discussing how it felt. The verdict? "It actually felt like we were on Manchester which is good for the team pursuit," said Rowsell.
Today and tomorrow would be used for more serious training, and Hovenaghel, Trott and Storey will do some near race pace efforts to prepare for Cali.
Like anyone who visits the sight, the five riders had to go through tight security before entering the park. "We had to get passes and get our finger prints scanned, and we took our passports for ID. We then had a tour of the Olympic park. We saw the Athletes village, it's only 300m from the velodrome, which should make life easy."
"I'm glad I've seen it, it could be really overwhelming seeing it for the first time at the Olympics."
Related links
British Cycling's London world cup tickets sell out fast
Olympic velodrome beaten to architecture prize by Brixton school
Olympic velodrome opens today
Thank you for reading 20 articles this month* Join now for unlimited access
Enjoy your first month for just £1 / $1 / €1
*Read 5 free articles per month without a subscription
Join now for unlimited access
Try first month for just £1 / $1 / €1