Sastre retires from professional cycling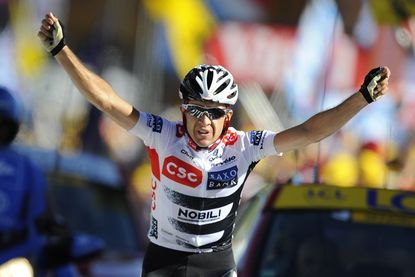 Former Tour de France winner, Carlos Sastre announced today that he will retire from cycling immediately. The Spaniard won the 2008 Tour and on Sunday, helped Geox-TMC team-mate, Juan José Cobo secure the overall Vuelta a España title.
"It's time to end this cycle," he said at a press conference, according to French newspaper L'Equipe. "Being alongside the winner of the Vuelta and winning team was the best conclusion to my career."
The 36-year-old began his career 14 years ago, in 1997 with ONCE. He said that his plans for the future are undecided. This year, he was a guest commentator during the Tour de France.
He won two stages of the Giro d'Italia in 2009 and the Tour's Alpe d'Huez stage in 2007.
No merger for Saxo Bank and Astana
Saxo Bank and Astana will remain separate teams next season despite rumours of a merger.
"Cycling is made from strong teams," Giuseppe Martinelli told Cycling Weekly, "not only commercial interests."
Martinelli helped Alberto Contador win his third Tour de France title last year and continues as Astana's team manager this year.
Contador left Astana at the end of last year to join Saxo Bank, teams both sponsored by Specialized bikes. In the last two years, there were already rumours of a merger and two days ago, following the announced merger of Leopard and RadioShack, it came to the surface again.
"It's an old story, it can't happen," added Martinelli. "If it did, I don't know what would happen with all the extra people."
Another American bicycle manufacturer, Trek, sponsors both Leopard and RadioShack. Leopard will take on RadioShack's Johan Bruyneel as its new General Manager and some of the team's riders.
Astana is mostly sponsored by a group of Kazakhstan businesses that cyclist Alexander Vinokourov brought together. Bjarne Riis's sponsor, Saxo Bank, agreed this year to continue as sponsor for another year, through 2012.
Team Saxo Bank's spokesman, Anders Damgaard, agreed with Martinelli and said that there were no plans of a merger.
Leopard sought merger with Geox
Leopard-Trek's owner, Flavio Becca studied many options before announcing on September 5 that his team would merge with RadioShack. The president of the Geox clothing company, Mario Moretti Polegato hinted to La Gazzetta dello Sport that he was approached.
"It's natural that we were approached, we're a global company," he said. "I am enjoying the Vuelta success for now."
His Geox-sponsored team, Geox-TMC won the Vuelta a España on Sunday with Juan José Cobo. The same day in Monza, Sebastian Vettel won the Formula 1 round with a car sponsored by Red Bull and Geox.
"It," said Moretti Polegato, "was a perfect Sunday."
He agreed to a reported five-year, €50m sponsorship deal last year with Mario Gianetti's cycling team. However, there are rumours he may leave the team at the end of this year.
Renshaw angry over Australia team selection
Mark Renshaw suggested that joining Rabobank, instead of GreenEdge, next year played a part in him not being selected for the Australian Worlds team.
"I don't know how much of a factor [it played], but ... it probably [had] something to do with it," he told the Sydney Morning Herald yesterday. "I have to watch what I say. I wouldn't want to rule myself out of the world titles forever."
Australia announced its team on Monday, taking five future GreenEdge riders and three riders from team Sky.
Cycling Australia denied its country's new team influenced the national team selection.
Related links
Rasmussen out of Tour of Britain after being sacked by HTC for missed test
Thank you for reading 5 articles this month* Join now for unlimited access
Enjoy your first month for just £1 / $1 / €1
*Read 5 free articles per month without a subscription
Join now for unlimited access
Try first month for just £1 / $1 / €1