Schoolboy Jones steps into the Catford limelight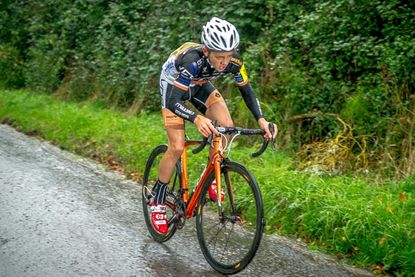 Harrison Jones surprised a few people with his ride on the historic Catford CC hill climb on Sunday, including himself.
16-year-old Jones, who attends Tunbridge Wells Grammar School, won the Junior competition in a time that put him in the top-15 of the whole race.
Finishing the climb in 2-10.2, Jones left nothing out on the wet and windy hill, except when he was sick on his mum's boots at the end.
"It was a big event for me and I had been training for it for about six months," he said. "I've ridden the hill a few times but never really got near 2-10."
Jones rides for the V02 Development Team, but does most of his training with former Team Sky coach, Sean Yates at TrainSharp Cycle Coaching.
"Sean basically knows everything. He rode the [Catford] event last year and said that I'd lose time on the steepest part of the hill, so I had to save something for the end and then empty the tank," Jones said.
Jones thinks that his diminutive stature means that climbing is one of his best attributes.
"I've always struggled to get the really good results in the crits as they're just so flat," he said. "I'm only 53kg so it's difficult when you come up against the big guys."
After his impressive ride on Sunday, Jones hopes that he can push on and develop with the V02 team, and hopes to ride in some of their big races next season.
"First thing will be the Tour of the Mendips in April, then towards the end of the season we've got the Tour of Wales, which is the biggest objective for the team," he said.
While the £20 prize he claimed on Sunday might not be enough to buy his mum some new boots, he'll be battling for the bigger prizes in the future.
Thank you for reading 20 articles this month* Join now for unlimited access
Enjoy your first month for just £1 / $1 / €1
*Read 5 free articles per month without a subscription
Join now for unlimited access
Try first month for just £1 / $1 / €1