Shaun Stephens appointed as Sky's performance coach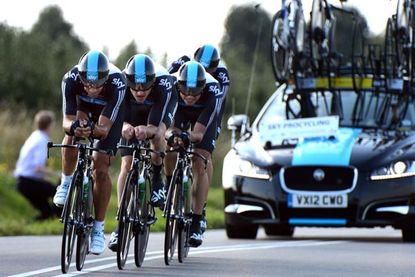 Australian national coach Shaun Stephens has been appointed by Team Sky as performance coach for the 2013 season.
Stephens will leave his post at head coach at the Australian Institute of Sport and Triathlon Australia to take up the position with the team. He has been involved with coaching Australian athletes for the past four Olympics.
Stephens will work with existing Sky head coach Tim Kerrison. Both men have been appointed from outside the world of cycling - Kerrison was formerly a swimming coach with the Australian and British national squads and has been in charge of Bradley Wiggins' training since 2010.
"I'm looking forward to contributing to the team and bringing in new ideas through my sport science and coaching knowledge of triathlon," said Stephens in a team statement.
"I believe it is Dave Brailsford's vision of introducing a diversity of skill sets into Team Sky, and ultimately the cycling staff and riders' embracement of new training and competition strategies, that has given Team Sky a competitive advantage over other teams."
Brailsford added: "Shaun's appointment continues Team Sky's commitment to assembling the very best coaching and support staff in the world, without being afraid to look beyond the arena of cycling."
"The team has taken tremendous strides since the appointment of Tim Kerrison, who came from swimming, and we hope that with Shaun on board we can maintain our position as the world's number one cycling team."
Late last month, Bobby Julich left his position as Sky's race coach after admitting to doping during his professional career. Julich was part of Lance Armstrong's US Postal squad which has come under scrutiny as part of the United States Anti-Doping Agency (USADA) investigation into organised doping. The investigation concluded that there was a comprehensive programme of doping at the squad, and has stripped Armstrong of his seven Tour de France titles.
Sky directeur sportifs Steven De Jongh and Sean Yates also left the team last month. De Jongh admitted to doping during his riding career, and Yates retired from the sport. The team has yet to announce replacements.
Related links
De Jongh leaves Sky after doping admission
Team Sky riders and staff must sign anti-doping policy
Sean Yates retires from Team Sky
Bobby Julich leaves Team Sky after confessing to past doping
Cycle Sport magazine: Tim Kerrison, the man behind Bradley Wiggins' Tour
Thank you for reading 5 articles this month* Join now for unlimited access
Enjoy your first month for just £1 / $1 / €1
*Read 5 free articles per month without a subscription
Join now for unlimited access
Try first month for just £1 / $1 / €1