Stephen Roche defends UCI president Pat McQuaid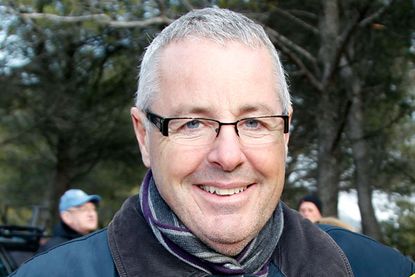 Get The Leadout Newsletter
The latest race content, interviews, features, reviews and expert buying guides, direct to your inbox!
Thank you for signing up to The Pick. You will receive a verification email shortly.
There was a problem. Please refresh the page and try again.
Irish cycling legend Stephen Roche has leaped to the defence of embattled UCI President Pat McQuaid who is facing perhaps the most crucial 24 hours in his eight-year tenure as the head of cycling's governing body.
McQuaid is seeking a nomination for re-election for a third term in office, which would commence in September. He needs a nomination from a National federation and will seek that tomorrow morning from Cycling Ireland where its members will gather at the Red Cow Moran Hotel in Dublin (11am) to decide.
And though there is a groundswell of opinion suggesting he won't be nominated by the Irish federation, Roche believes he should be, based on his reputation.
"Pat and the UCI have done great things for our sport despite all the problems that cycling has had to deal with in the past 10 years," said the former Tour de France winner yesterday.
"No other sport has had as much negative publicity as cycling and I'm sure that many a 'strong President' would have jumped ship and left the cleaning up to someone else," he added.
"Pat has been a strong leader and has succeeded in not just tackling the everyday issues - the exceptional issues in cycling, but he has also been responsible for the huge development worldwide of our sport. I sincerely believe that Cycling Ireland should nominate Pat for the UCI Presidency because he has the passion, ability and conviction to continue to grow and develop our sport and also continue to tackle all other issues with honesty and determination."
McQuaid was originally backed by Cycling Ireland on April 12 but after the nomination was challenged by Board member Anto Moran - who contested the meeting hadn't taken place according to the rules, the nomination was declared void.
Then, under intense pressure from member clubs, that nomination was rescinded and today's EGM was called. But in the meantime, McQuaid sought a nomination from the country he resides in, Switzerland.
However, that avenue hit a rock last week following news that two pressure groups, (Australian businessman Jamie Fuller and the Change Cycling Now group) intimated they were exploring legal avenues to prevent the Irishman seeking a nomination from the Swiss federation.
And in a statement released last night, McQuaid rubbished that move and said it was little more than a "shameless and confected PR stunt". He also played down the significance of tomorrow's meeting.
"I have been heartened that so many clubs and friends in Irish cycling have been galvanized into supporting me by the attempts of people outside Irish cycling to discredit me and to negatively influence Irish clubs," said McQuaid.
"Whatever happens at the Cycling Ireland EGM, my nomination by Swiss Cycling will stand. Cycling Ireland is not permitted to cancel the EGM that it has called and a small group of activists who have been manipulated by commercial interests have sought to mislead and convince anyone who will listen that this is a defining moment in my election campaign. It is not," he added.
"Any suggestion that my nomination does not comply fully with the UCI rules is untrue, deliberately misleading and disingenuous. The rules have been followed to the letter. The latest challenge to my Swiss nomination is completely baseless - it is just one more shameless and confected PR stunt by a company and individual who have sought to hijack the UCI Presidential election to turn it into a global PR and marketing campaign for himself and his company," blasted McQuaid.
However, the fact that McQuaid's Swiss nomination may yet be legally challenged puts the spotlight very much on today's meeting because nominations for the presidency cannot be submitted less than 90 days from the election itself, which takes place the last week of September at the World Championships in Florence.
It will leave McQuaid with little time - and options, if Cycling Ireland's members don't give him their backing tomorrow.
Related links
McQuaid calls Brian Cookson's UCI president candidature 'odd'
Cookson announces intention to run for UCI presidency
Read Cycling Weekly magazine on the day of release wherever you are in the world with our iPad and iPhone edition - International digital edition, UK digital edition. And if you like us, rate us!
Thank you for reading 20 articles this month* Join now for unlimited access
Enjoy your first month for just £1 / $1 / €1
*Read 5 free articles per month without a subscription
Join now for unlimited access
Try first month for just £1 / $1 / €1