Steven de Jongh joins Saxo-Tinkoff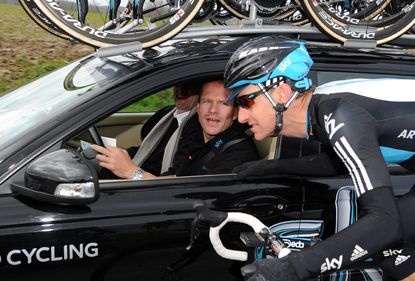 Steven de Jongh has been appointed as a sports director for the Danish Saxo-Tinkoff WorldTour team just over two months after leaving Sky. De Jongh exited from British-based Sky after admitting to doping during his professional riding career.
The Dutchman's career as a rider spanned 1995 to 2009 with TVM, Rabobank and QuickStep. He joined Sky as DS in the team's inaugural season in 2010.
At the end of October, de Jongh wrote an open letter admitting to doping, saying: "I took EPO on a few occasions from 1998 to 2000. It was very easy to get hold of and I knew it couldn't be detected. I was a fairly young rider, the opportunity was there right in front of me and it was a pretty big challenge to stay away from the temptation."
Sky tightened up its anti-doping policy after the United State Anti-Doping Agency's report into organised doping at Lance Armstrong's US Postal Service squad during his seven Tour de France wins from 1999 to 2005.
All Sky staff and riders were interviewed about doping and signed up to a 'no association to doping' policy. De Jongh and race coach Bobby Julich admitted to past doping and left the squad. Those that are subsequently found to have broken the agreement will be expelled from the team.
Saxo-Tinkoff, however, have welcomed de Jongh to its team after the 39-year-old admitted that he was suffering from a lack of options after leaving Sky.
"After I left Team Sky, I simply didn't know what the future would hold for me," de Jongh said in a Saxo-Tinkoff team statement. "But in early January I had some conversations with Bjarne and the team, and this developed into a job offer and a fantastic opportunity for me personally. I'm really looking forward to start this new chapter of my career as a sport director, and I'm grateful for the confidence the team has shown me."
Saxo-Tinkoff team owner and manager Bjarne Riis added: "In order to complete our sport director line up we have been looking for a sixth sport director for quite some time now".
"Recently I got in touch with Steven, and throughout our conversations I felt he would be a great fit for us. On top of that I have heard a lot of good things about him as a sport director, and he brings a solid amount of experience to our team. So I'm happy to welcome Steven onboard and to start working with him."
De Jongh joins fellow sports directors Philippe Mauduit, Dan Frost, Tristan Hoffman, Fabrizio Guidi and Lars Michaelsen at Saxo-Tinkoff. He will also link up with former Sky rider Michael Rogers after the Australian moved teams this winter.
Riis himself admitted to taking EPO between 1993 and 1998 when he was a pro rider. The period includes the year he won the Tour de France - 1996. Saxo-Tinkoff Grand Tour leader Alberto Contador was at the centre of a long-running battle after testing positive for clenbuterol at the 2010 Tour. He subsequently served a two-year ban and was stripped of the 2010 Tour and 2011 Giro d'Italia titles.
Related links
open letter from Steven de Jongh
De Jongh leaves Sky after doping admission
Michael Rogers leaves Sky for Saxo-Tinkoff
Thank you for reading 20 articles this month* Join now for unlimited access
Enjoy your first month for just £1 / $1 / €1
*Read 5 free articles per month without a subscription
Join now for unlimited access
Try first month for just £1 / $1 / €1