Stolen Hog Hill bike was a 'labour of love'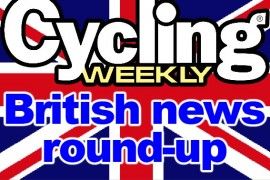 >>>We want to hear what's happening in your area - from racing results to sportives, recreational cycling to commuting. To submit your stories for CW's British news round-up, please email Nick Bull or Richard Abraham>>>


The father of a young cyclist who had his bike stolen from Hog Hill on Saturday has appealed for its safe return.
13-year-old Georg Mew Jensen's Storck Fenomalist was taken from the Redbrige facility after the lock was cut.
Photographs of the man believed to have taken the bike have been passed onto the police, and a criminal investigation is underway.
Georg's father Steve contacted Cycling Weekly, and reveals that the bike was a labour of love for his son.
"Last Friday evening Georg rode a great race in the under-14 crit at the Kent Cyclopark. Although David Barnes had surprised everyone and pulled away in a stunning first lap, Georg controlled the chasing pack to finally take second place, his first under-14 points in his short career. He was pretty happy after the race, said his legs felt great and bike was amazing," Steve explains.
"The next day, Saturday May 5, at Hog Hill his new bike was stolen. The lock was cut and it was ridden away.
Georg's stolen bike
"Georg had been building that new bike for two years. He started with a £160 Scott from eBay, and started 'pimping' it up. With a sister who dives at elite level, Georg knew it wasn't an option to lavish pots of cash at fancy bikes. So, after every race where winnings were received and for his 11th and 12th birthdays and Christmas presents, he gathered kit and cash and scoured the internet for the perfect items. Finally, after the London Borough of Tower Hamlets gave Georg some Sports Grant Aid (which is pretty rare these days), he was able to get hold of the perfect frame for his 13th birthday."
If any CW reader has information on the whereabouts of Georg's bike, contact Steve Jensen on 07810 333722.
Tickets for the forthcoming UCI BMX World Championships (May 24-27) are still available.
Some 2,000 riders will descend on Birmingham to compete in the event, which will see a track built from scratch inside the city's National Indoor Arena.
Olympic hopefuls Shanaze Reade and Liam Phillips will be among those competing; the championships will be their last event before this summer's Games.
Tickets for the four-day competition - including a pass for all sessions - are still on sale at www.bmxworldchamps.com.
Traditionally used for music and athletics events, the NIA will be turned into a top-class BMX facility
Fourth-cat women will no longer be able to compete in the bi-weekly Wednesday evening races at the Hillingdon circuit following a series of crashes.
Race organiser Bill Butterworth has taken the decision - which comes into play with immediate effect - in order to improve the safety of other riders.
"After careful deliberation and very mindful of the recent accidents, I have decided that fourth-category riders are no longer eligible for these races," he said.
"For the riders affected by this decision Prime Coaching has a series of events/coaching on Thursday evenings at Hillingdon specifically aimed at fourth-category riders to teach them how to race and ride in a group safely and would welcome any riders wishing to improve there race skills."
The next evening of racing - which also includes events for male vets aged 40 and above - takes place on May 16.
A new bus service has been launched to help cyclists travel around the Lake District.
The route 800 - run by Stagecoach Cumbria - forms part of the GoLakes sustainable transport programme that is aiming to get visitors to the National Park to "Drive Less, See More".
The service started on Saturday, and will initially run at weekends and Bank Holidays. From July 16 until August 31, it will run everyday.
For more information, visit www.golakes.co.uk.
The Crystal Palace Cycle League has been delayed once again due to ongoing repairs of the track's surface.
Initially scheduled to start on April 26, it was hoped that the weekly series would get underway last night (May 8).
At present no start date for the series has been announced.
>>>We want to hear what's happening in your area - from racing results to sportives, recreational cycling to commuting. To submit your stories for CW's British news round-up, please email Nick Bull or Richard Abraham>>>
>>To catch up on previous weeks' round-ups see the British news round-up index page>>>