Subscribe to CW during the Tour de France and get 6 issues for just £6
Enjoy all the action this summer from France to Glasgow with a subscription to Cycling Weekly magazine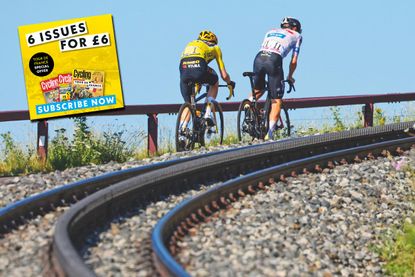 (Image credit: Getty)
Subscribe to Cycling Weekly while the Tour de France is on and you'll get the first six issues for just £6. Cycling Weekly covers international racing through the year, and there's still plenty of coming up, even once the Tour de France is done and dusted.
The Tour de France Femmes Avec Zwift starts immediately after, and then just days after that the mens and womens pelotons will be heading to Glasgow for the first ever UCI Super World Championships. 11 days of action where over 200 world titles will be awarded.
>>>>Subscribe to CW before July 24 to take advantage of this deal
From road racing to BMX, mountain biking to cycle ball there is lots of action to watch. We'll be previewing all the events in our August third issue. By subscribing you'll ensure your magazine arrives every Thursday, meaning you won't miss a thing.
And there's more. In mid August Ineos's Geraint Thomas will make his first attempt on the Vuelta a España. Could it see his rivalry with Primož Roglič rekindled, or will Remco Evenepoel be back to defend his title and turn it into the three horse race we hoped this year's Giro would be. All this and more will be in our Vuelta preview issue on sale August 24.
The week after that we'll be looking ahead to the Tour of Britain, bringing you all the route details for the 2023 race that starts in Manchester.
Alongside all the racing content, we also bring you bike and product reviews, fitness advice, rider columns, features and more, every week.
Thank you for reading 20 articles this month* Join now for unlimited access
Enjoy your first month for just £1 / $1 / €1
*Read 5 free articles per month without a subscription
Join now for unlimited access
Try first month for just £1 / $1 / €1