Tour DoonHame: Post-race debrief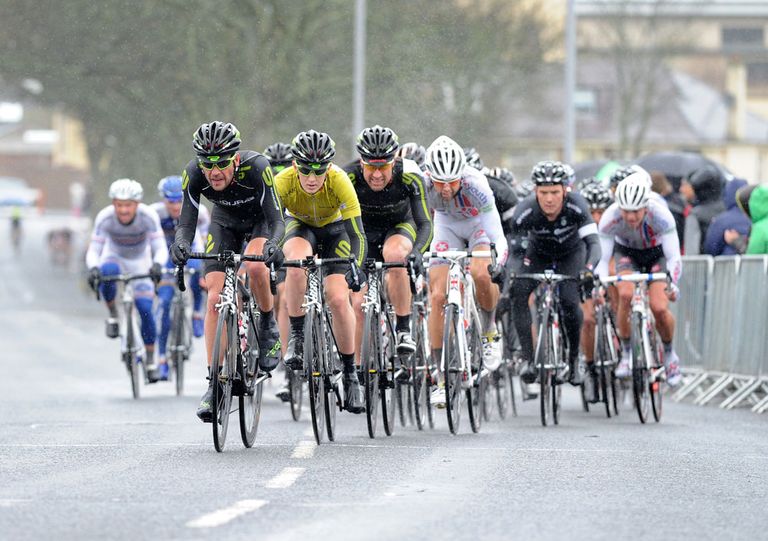 Cycling Weekly's Premier Calendar post-race debrief is the place to catch up on what you've missed from last weekend's Tour DoonHame.

With analysis, rider interviews and video highlights, you can be sure you'll know exactly what happened in Scotland over the Easter weekend.
McEvoy's solo victory gives him overall DoonHame win >>>
Thwaites makes it two out of two for Endura at DoonHame >>>
Rowsell takes DoonHame opener >>>
Premier Calendar 2012: Cycling Weekly's coverage index >>>
Tour DoonHame 2012: stage three gallery >>>
Tour DoonHame 2012: stage two gallery >>>
Team Hope prepare for Tour Series in DoonHame crit
Raleigh-GAC take the fight to Endura at DoonHame
Analysis: Endura untouchable as the rest fight for scraps
It was a result as seemingly as predictable as the continual rain which soaked the riders to their skin over the Easter Weekend in Scotland.
However, if anyone claims Endura's clean-sweep of stages, the top three on GC and the two jerseys on offer (plus the team prize) showed how strong they are in 2012, they're wrong. We knew that already. It emphasised it.
Jonny McEvoy won two stages here twelve months ago, and his blistering attack was not only reminiscent of that from the Canary Wharf Tour Series round last June, but worthy of claiming the overall victory. This was a quality display, even more so than that of his team-mates Erick Rowsell and Scott Thwaites, who looked assured and confident as they claimed stage one and two respectively.
DS Julian Winn told Cycling Weekly on Sunday morning that the race was all about numbers - getting men in the breakaway groups. After the Girvan crit on Sunday afternoon - when then GC leader Rowsell had 11 seconds in hand over his nearest rival, with Thwaites and McEvoy lurking behind - he warned of complacency.
After all, he knows the British scene rather well. He must know that Endura will be beaten soon. There is simply too much quality in the domestic peloton this year.
No-one can accuse IG-Sigma Sport, Node4-Giordana and Raleigh-GAC of not getting the numbers in the breakaways. It was Rapha-Condor-Sharp's Richard Handley who split the large leading group on stage one to just three when he attacked on the second-category Tairlaw Summit. Perfs Pedal winner Chris Opie could have won for UK Youth in Sunday's crit* had he have been higher up the bunch coming into the final straight. Whether it be at the Rutland-Melton CiCLE Classic at the end of the month, or the back-to-back Premier Calendar rounds that get the busy month of May underway, it will be nothing short of spectacular if Endura keep this up.
*Interestingly, if you translate the results from stage two's 16.5-mile criterium into the Tour Series format - in which the placings of the first three riders from each team are added, and the lowest cumulative score wins - the result would have looked like this:
1. Endura Racing
2. Raleigh -GAC
3. Rapha-Condor-Sharp
4. Node4-Giordana
5. CyclePremier-Kovert
Endura's one-two-three: (left to right) Scott Thwaites, Jonny McEvoy and Erick Rowsell
Team Talk
Jonny McEvoy - Endura Racing - on claiming the overall victory at the death...
"That was definitely a bonus - we had Erick in the jersey and I was more than happy to help him keep it. But because of the numbers we had in the group, we couldn't not attack and try to get away. Fortunately I managed to do it; it was either going to be Rob [Partridge] or myself to attempt it, and it worked. I didn't know the overall until they told me afterwards."
Becky Frewing - IG-Sigma Sport interim team manager - on the team's first race without Matt Stephens in charge...
"We've got some new riders and they're still finding their feet, and while Matt's departure hasn't unsettled the boys, it's been a big change for them. We wanted to get two people in the break [on stage three] having missed it on stage one. We pushed up the GC a little bit too, which is a bonus."
Malcolm Elliott - Node4-Giordana team manager - on Matt Cronshaw's
disqualification for taking an illegal tow during stage three...
"Matt came to speak to me at the passenger's side of the car. There was no question of taking any advantage from it. I called him back to speak
to me; you wouldn't know how hard it is to talk to the riders when it's windy and raining hard.
Cherie Pridham - Raleigh-GAC team manager - on taking the fight to Endura Racing...
"We're very happy with the results this weekend. We didn't want to sit back and give it to them on a plate and I think the whole team put up a good fight."
John Herety - Rapha-Condor-Sharp team manager - on Richard Handley, who finished fourth overall...
"He rode really well over the whole weekend. He was our only rider to get into both of the defining moves of the race. Last year he was practically unknown, so he is getting close to a real breakthrough."
Magnus Backstedt - UK Youth - on being the "big name" team to miss the move on Monday...
"We missed out on the break, and we were on the back foot from there. We tried to bring it back, but we're still coming back from illness that we picked up a few weeks ago. The riders are far better than what we've shown, but give it a couple of weeks we'll be strong again."
Tweets of the race

Ian Wilkinson - Endura Racing - @wilks_racing
Had to use the Sport Intensive wash on the washing machine. Meant4 dirty footy kit i think. Did a good job on #equipe kit from #doonhame
Tom Murray - IG-Sigma Sport - @tomminty

Just lent my head to the side and some rain and road debris fell out #goodoldgirvan
Alistair Rutherford - Vanillabikes.com - @mralibongo

I watched @dean0downing crash today, but it turned into a comedy roll! Not sure if it was out of boredom?
British Cycling highlights videos
Stage one
Stage two
Stage three
Related links


McEvoy's solo victory gives him overall DoonHame win
Thwaites makes it two out of two for Endura at DoonHame
Rowsell takes DoonHame opener
Premier Calendar 2012: Cycling Weekly's coverage index
Tour DoonHame 2012: stage three gallery
Tour DoonHame 2012: stage two gallery
Team Hope prepare for Tour Series in DoonHame crit