UCI bans Russian and Belarusian teams and races with immediate effect but riders from the two nations can continue to race
A rule change has been introduced to allow athletes with multiple nationalities to change their nationality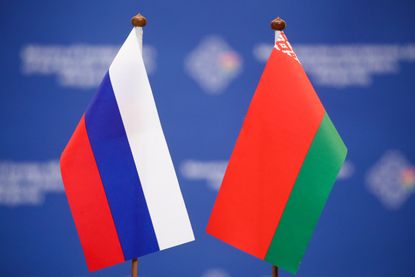 (Image credit: Getty)
Russian and Belarusian athletes will still be able to compete in UCI-sanctioned cycling races, but registered teams from the two nations have been stripped of their right to race.
In a strongly-worded condemnation by the UCI of the ongoing Russian invasion in Ukraine, cycling's governing body revealed that at an extraordinary meeting they have decided to impose a range of sanctions on teams and races from both countries.
A day after the International Olympic Committee (IOC) called for all athletes from Russia and Belarus to be denied the right to participate in sporting competitions, the UCI stopped short of enacting such a pledge, meaning that riders like Ineos Grenadiers' Pavel Sivakov will not be barred from competing.
But national teams from Russia and Belarus are not allowed to compete in UCI races, and UCI team statuses have been withdrawn from six teams including ProTeam Gazprom-RusVelo, who earlier on Tuesday saw two bike sponsors pull out of their sponsorship deal.
The move also affects three male and one women's Continental teams, including Minsk Cycling Club, and a track team.
All five scheduled track and road races for the 2022 season in the countries have also been pulled, and the UCI said they would "not consider and further registration requests". National championships have also been cancelled.
In addition, the name, flag, anthem and acronyms of the two nations will not be permitted at any event, meaning that national champions can no longer wear their jerseys. Aleksandr Vlasov of Bora-Hansgrohe, therefore, will have to wear a team-standard time trial skinsuit in future TTs.
Significantly, though, the UCI said that "it wishes to clarify that Russian and Belarusian licence-holders are authorised to take part in events on the UCI international calendar with their respective teams provided they are registered with a UCI team that is neither Russian nor Belarusian.
"Russian and Belarusian riders can also participate in UCI international calendar events if individual registration is authorised."
Organisers must withdraw any reference to the two countries and represent the riders neutrally. The UCI added that: "The decision not to impose a blanket ban on Russian and Belarusian athletes at all international events is based on obtaining a balance of all interests.
"In particular, it is a question of taking into account the contractual rights of the riders and teams concerned, and not to unjustly penalise teams that are not Russian or Belarusian.
>>> Who are the Gazprom-RusVelo cycling team and how are they linked to the Russian government?
"The UCI asks organisers, spectators and competitors to respect Russian and Belarusian riders at races in which they would be authorised to participate."
In a development that may appeal to Sivakov, the UCI has introduced a specific regulation that will allow Russian and Belarusian licence-holders with more than one nationality to request to change their sporting nationality "without any restriction." Sivakov was born in Italy to Russian parents but grew up in France, and it has been said in previous years that he would consider switching allegiance to France.
The UCI statement also announced that teams and races should not brandish Russian or Belarusian brands and companies, and that the cycling federations of both countries are not suspended as "they are not implicated in the violation of the Olympic truce."
In summarising their position, the UCI said that it "welcomes the courageous stance taken by Russian and Belarusian cyclists and officials in a bid for peace... the UCI's position could evolve as the situation in Ukraine develops."
Thank you for reading 20 articles this month* Join now for unlimited access
Enjoy your first month for just £1 / $1 / €1
*Read 5 free articles per month without a subscription
Join now for unlimited access
Try first month for just £1 / $1 / €1