UCI brands Landis a liar in latest publication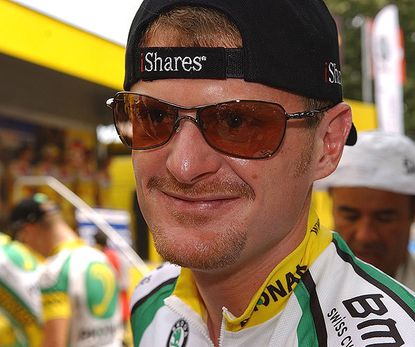 In a strongly-worded editorial published on Tuesday, the Union Cycliste Internationale (UCI) has hit back at the accusations made against it by drug-cheat-turned-whistleblower Floyd Landis.
American former pro Landis recently accused the UCI of having "protected some riders and not others during the past 20 years. It was their way of manipulating and creating stars," and specifically named current and former UCI presidents Pat McQuaid and Hein Verbruggen in his accusation. Landis was claiming that the UCI had effectively turned a blind eye to the doping of some riders.
The editorial entitled 'Consistency, rigour and serenity' published in the UCI's Velo newsletter does not name Landis - instead using the phrase 'a certain person who has a tendency to throw around serious accusations without the slightest evidence to back them up' - but it is very clear at whom the editorial is directed.
"This is a person who lacks all credibility and has no sense of responsibility, who believes he now has free rein, having abused the system himself, having lied to all of us and all of you," the editorial reads.
The piece then goes on to use the current investigation into Alberto Contador's positive for clenbuterol at the 2010 Tour de France as an example of how rigorous the organisation is in its anti-doping efforts.
"The consistency, rigour and serenity that governed the inquiry, conducted in close cooperation with the World Anti-Doping Agency, into the abnormal test results of the triple Tour de France winner, should offer the most telling guarantee of our commitment to eradicate doping, regardless of the low levels of product detected, regardless of all the possible justifications, regardless of the rider's impressive record, and regardless of the additional negative consequences for cycling."
"And even in spite of the slanderous accusations and a habit of being economical with the truth."
The editorial itself is not attributed to a specific writer, but it echoes the sentiments aired by McQuaid during an interview with the Irish Independent newspaper at the end of November.
Landis has been at the centre of a wide-ranging investigation into doping within cycling after the widespread publication of his accusation that seven-times Tour de France champion Lance Armstrong, and several others, doped during their cycling career.
Landis himself tested positive during the 2006 Tour and was stripped of the win. He subsequently denied doping and launched a lengthy battle to clear his name, but finally 'came clean' in May after admitting to using banned performance-enhancing drugs and blood doping techniques.
One of Landis's early accusations against the UCI was that it accepted money from Armstrong. It later transpired that the UCI had indeed received $100,000 from Armstrong, which it used to purchase anti-doping equipment.
Those riders named by Landis are the subject of an on-going investigation by the US Food and Drug Administration lead by Jeff Novitzky.
Related links
McQuaid: No truth in Landis's claims of UCI protecting riders
Contador doping case: WADA ready to appeal, Landis critical
McQuaid confirms Armstrong donated $100,000 to UCI
Landis admits he doped and implicates others
Thank you for reading 20 articles this month* Join now for unlimited access
Enjoy your first month for just £1 / $1 / €1
*Read 5 free articles per month without a subscription
Join now for unlimited access
Try first month for just £1 / $1 / €1