UCI requests a disciplinary hearing into Contador's failed dope test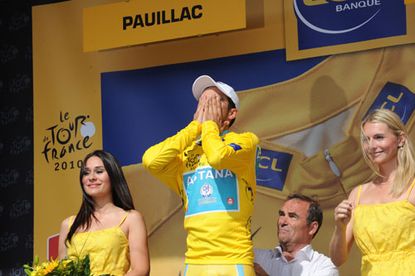 The Union Cycliste Internationale (UCI) requested today that Spain open a disciplinary hearing for its cyclist Alberto Contador. He tested positive for weight-loss drug Clenbuterol on the way to winning his third Tour de France in July.
Contador has not raced since he won the Tour de France by 39 seconds over Luxembourg's Andy Schleck. On the race's second rest day, July 21 in Pau, he tested positive in an anti-doping control. He announced his test result on September 30, one month after he was informed by the UCI. The UCI also provisionally suspended Contador on the same day, September 30.
Along with the World Anti-Doping Agency (WADA), the UCI investigated Contador's urine sample from that day, and other days, to determine if there was foul play. Plasticizers were also found in Contador's blood control, which could indicate he had a blood transfusion. However, the analysis to test link is not yet approved.
"At the end of a long and meticulous enquiry entrusted to highly qualified, WADA-accredited experts, and considering all the information currently in its possession, the UCI has concluded that disciplinary proceedings should be opened against Alberto Contador," the UCI said in a press release.
"Until the end of the proceedings and despite his provisional suspension, Alberto Contador still benefits from a presumption of innocence."
Contador maintains his innocence and says that the Clenbuterol came from contaminated meat he ate, but the European Union has banned its use in animals since 1996. It regularly checks farms to ensure the rules are followed. According to the Associated Press news agency, Clenbuterol showed only once in 83,203 animal tests in 2008 and 2009. 19,431 of those tests were in Spain and none showed Clenbuterol.
The World Anti-Doping Agency (WADA) names Clenbuterol on list of banned drugs and its presence, in any amount, is considered a doping positive. Contador's urine sample revealed 50 picograms or 0.000 000 000 05 grams per millilitre.
The Spanish Cycling Federation (RFEC) is expected to announce a hearing date soon. Contador faces a likely two-year ban and the loss of his Tour de France title, though, he may appeal an eventual guilty verdict to the Court of Arbitration for Sport (CAS). Last month, however, he indicated that he may quit cycling.
"I am so disappointed with everything that's happening," he told Spain's El Mundo newspaper, "that I'm thinking of leaving cycling, regardless of any decision by the UCI."
Contador raced his third and final season this year with team Astana. On August 3, Bjarne Riis announced that Contador would join his Saxo Bank team for the next two years to replace outgoing stars, Fränk and Andy Schleck. Contador's contract is worth an estimated €9 million, or €4.5 million a year.
Related links
Spain's sports minister urges patience in Contador case
Saxo Bank to continue team sponsorship with or without Contador
Riis has a plan B is Contador is banned
How does clenbuterol testing work
Contador considers quitting cycling due to doping scandal
Tension rises over Contador's clenbuterol case
Contador case splits experts' opinions
Alberto Contador: The clenbuterol, the beef excuse and traces of plastic
Spanish authorities investigate source of Contador's mystery meat
McQuaid quiet on Contador case but says Spain can do more
Did Contador have a transfusion during the Tour?
Contador points finger at imported meat for clenbuterol positive
Contador tests positive for clenbuterol says governing body
Thank you for reading 20 articles this month* Join now for unlimited access
Enjoy your first month for just £1 / $1 / €1
*Read 5 free articles per month without a subscription
Join now for unlimited access
Try first month for just £1 / $1 / €1