UCI takes steps to form 'Champions League' for cycling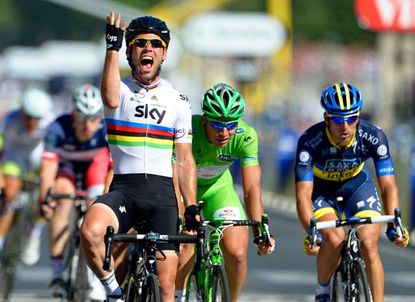 Cycling's governing body, the Union Cycliste Internationale (UCI), confirmed over the weekend that it signed an initial agreement with private investors to begin a new professional cycling league. It said it is close to announcing a deal, which has the potential to reshape the cycling calendar in under three years' time.
Team Omega Pharma-QuickStep owner Zdenek Bakala and his Dutch business partner, Bessel Kok held a press conference on Friday to explain their plan. They said they gathered initial investors to create something similar to football's Champions League: the top teams competing in the top races. Bakala said that he is willing to invest €10-20m [€8-16m] of his own money.
The UCI confirmed the next day it has been discussing plans with Czech Republic's wealthy businessman since late 2011. It said in a press release: "These discussions have included their potential financial investment in a new joint venture company with the UCI and other cycling stakeholders that would promote and organise elements of this new calendar."
President Pat McQuaid explained, "In Zdenek Bakala and Bessel Kok we have cycling fans who have already done much for the sport but who want to invest further. That demonstrates the confidence they have in cycling and we are keen to partner with them and others. We look forward to making a formal announcement on this as soon as possible next year."
Bakala, according to La Gazzetta dello Sport newspaper, has joined with eight to nine teams, including Omega Pharma, BMC Racing, Garmin-Sharp and Cannondale. Besides McQuaid, he has won over the UCI's former president Hein Verbruggen and former ProTour manager Alain Rumpf. The UCI confirmed it signed a Memorandum of Understanding with Bakala and Kok and is entering into "extensive dialogue with the teams and race organisers."
Omega Pharma features classics champion Tom Boonen and as of January, Mark Cavendish. However, in Brussels on Friday, its owner was busy securing the team's long-term future. He presented his plan to journalists from the Times of London, Het Nieuwsblad, La Gazzetta dello Sport... newspapers that presented a joint manifesto to change cycling on October 27.
According to Het Nieuwsblad, Bakala said: "Financially, the teams are unstable. It's not normal that in November some teams don't know where they stand for the next season. Teams [are fighting for] TV money. There must have stable income streams for the teams, allowing for long-term planning. The current complex WorldTour ranking system also needs reform. Therefore, we must make a Champions League."
The new league would feature the best 18 teams, similar to the ones in the WorldTour now. They would compete in about 20 races a year, including the Grand Tours, classics and historical races. Bakala and the investors would ramp up the prize money and allow teams a share of the TV revenues. The UCI would continue governing and provide an understandable ranking system. Bakala, however, wants it to hand-over its anti-doping activities to a third party.
The major organisers - ASO, RCS Sport and Flanders Classics - remain the major stumbling block. Bakala must give them reason to share their TV revenues and sign off on the league. He has yet to meet with ASO, but if he gets the Tour de France organiser on board, the league could take shape sooner rather than later. As it is now, he has given himself three years to get the league up to speed.
The UCI is adding fuel to Bakala's engine. Only last Wednesday, it announced that early next year it would meet with all the stakeholders to "look to the future of the sport." Given the developments in the last few days, the future seems be connected Bakala and a new league.
Related links
Cavendish leaves Sky for Omega Pharma-QuickStep
Thank you for reading 20 articles this month* Join now for unlimited access
Enjoy your first month for just £1 / $1 / €1
*Read 5 free articles per month without a subscription
Join now for unlimited access
Try first month for just £1 / $1 / €1